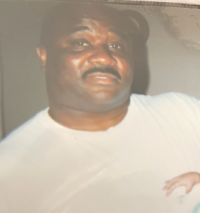 Mr. William "Melvin" Imes Jr., son of the late William "Sonny" Imes Sr. and Beatrice Mae Lynch, was born in Yadkin County, N.C., on April 14, 1956. He departed this life on Thursday, February 17, 2022, at Gordon Hospice House, Statesville, N.C., following an extended illness. He was married to Tara Wilson Imes, who survives. In addition to his parents, he was preceded in death a sister, Anita Lynch; and two brothers, Kenneth "Tookie" Imes and Johnny Ray Imes.
William attended West Iredell High School, and served in the National Guard, where he was a veteran of the Army Reserve.
He leaves to cherish the memories of his life his wife, Tana Wilson Imes; two daughters, Shanika Imes and and Kiana Imes; one beloved granddaughter, Jakiya Imes; five brothers, Cory (Anna) Imes of Charlotte, Anthony Imes of Statesville, James Lynch, and Kevin Lynch, both of Winston Salem, and Wilbur Weaver; five sisters, Sharon (Dereck) Murdock of Statesville, Angela Harper of Charlotte, Artrice Lynch and Robin Lynch, both of California, Willette Weaver, and Stacy Weaver; one brother-in-law, Seifullah (Mahasin) El-Amin; six sisters-in-law, Valerie (Cecil) Mayberry, Lillian (James) Tillman, Faith Wilson, Iris Murdock, Nina Wilson, and Glynita Wilson, all of Statesville; and a host of uncles, aunts, nephews, nieces, cousins, other relatives and friends.
A Celebration of Life will be held on Saturday, February 26, 2022, at Rutledge and Bigham Mortuary, at 2 p.m., with Bishop James Jackson officiating.
Visit the Book of Memories for William Melvin Imes at www.rutledgeandbigham.com.
Rutledge and Bigham Funeral Home is serving the Imes family.