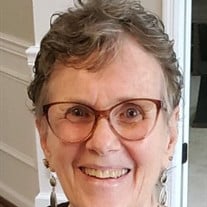 Jacqueline "Jackie" Elizabeth Moran, 73, of Statesville, N.C., passed away on Sunday, February 13, 2022, surrounded by her loving family. She was born on December 23, 1948, in Buffalo, N.Y., to the late John Edward and Elizabeth Catherine Harkness Moran.
In addition to her parents, she was preceded in death by her beloved lifelong companion, Alfred Melchiorre.
Her family will miss her deeply although they rest assured that she has entered eternal peace and comfort. Jackie will be remembered as loving mother, doting grandmother, sister, and friend. She was an amazing nurse and not only healed sickness and injuries but most importantly hearts. Jackie was considered a true Angel on earth. She was a giving and caring person who gave her all to family, friends, and the many people she touched. She enjoyed arts, crafts, flower gardening and spending time with her family no matter what they had planned. Her family and friends will think of her often and remember her unique desire for peanut M & M's, folded potato chips or the bubble in pizza crust and the ends of hard crust bread that she was always given the privilege to have. Jackie was resilient and fought Parkinson's with a heart full of courage. She attended and participated in Rock Steady Boxing and never let her illness dictate her desired way of life.
She is survived by her children, Frank John Falzone (Dana), Stephen Michael Falzone, and Christina Lynn Torrence (Malcolm); siblings, Kathy Clark (Erv), Molly Isaman, Michael Moran, Terrie Speck, Colum Moran, Peggy Kamysz, and Noreen Moran; grandchildren, Steven, Giavanna, Ashanti, Hanna, Briabella, Dominc, and Sincere; and numerous nieces and nephews.
A gathering to celebrate her life will be held on Sunday, February 20, 2022, from 2 to 4 p.m. at Lombardo Funeral Home, 885 Niagara Falls Blvd., Amherst, NY 14226.
In lieu of flowers, memorials may be made to The Assistance Fund for Parkinson's 4700 Millenia Blvd., Suite 410, Orlando, FL 32839, and Hospice and Palliative Care of Iredell County 2347 Simonton Road, Statesville, NC 28625.
The family would like to express their sincere appreciation to the many friends and caregivers at Heritage Place Memory Care, Cadence of Mooresville and Hospice & Palliative Care of Iredell County.
Cavin-Cook Funeral Home, Mooresville, is serving the Falzone family. Condolences may be made to the family at www.cavin-cook.com.