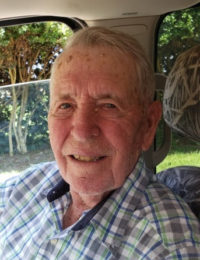 James Reid Gray, 91, of Statesville, N.C., passed away Tuesday, November 22, 2022, at the Gordon Hospice House.
Mr. Gray was born in Iredell County, N.C., on September 14, 1931, the son of the late Andrew Eugene Gray and Rachel Jenkins Gray. He was a graduate of Scotts High School and honorably served in the U.S. Army. In 1955, Reid married Peggy Byers Gray; they shared more than 67 years of love and life together. The Grays own and operate Grayhouse Dairy Farm in the West Iredell community.
Reid, a Deacon and Elder at New Sterling ARP Church, was a member of the North Carolina Board of Agriculture, and served 12 years as Iredell County Soil and Water Conservation District Supervisor. He received numerous local, state, and national agricultural awards and honors.
Reid loved his Savior, his family, farming, meeting people, and enjoying every precious day with his wife Peggy. Oh, how we loved him!
Along with his parents, Mr. Gray was preceded in death by an infant son, John Scott Gray; sisters, Eloise Lackey Wilson, Lois G. Ervin, Inez G. Tomlin, Laverne G. Clanton, Margie G. Kimberlin, and Colene G. Hurt; and his brothers, Leon Gray, Kenneth Gray, and Charles Neal Gray (infant).
Those left to cherish the life and legacy of Reid Gray include his wife Peggy; his daughter, Kitzi Emery (Frank); his sons, Jimmy Gray (Amanda), Andy Gray (Amy), and Kirk Gray (Ellen); his grandchildren, Gray Emery (Faith), Davis Emery, Maggie Emery, John Gray, Rachel Gray, Laurel Gray, Connell Gray, and Alex Gray. Also surviving are his sisters, Philis G. Joyner (Henry) and Shirley G. Goodman (John).
A funeral service to celebrate Mr. Gray's life will be conducted at 2 p.m. Saturday, November 26, 2022, at New Sterling ARP Church, 580 New Sterling Road, Stony Point, NC 28678. The family will receive friends following the service.
In lieu of flowers, those wishing to make memorials are asked to consider New Sterling ARP Church, 580 New Sterling Road., Stony Point, NC 28678 or Gordon Hospice House, 2341 Simonton Road, Statesville, NC 28625.
Troutman Funeral Home is serving the family.