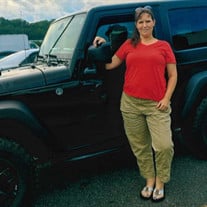 Jody Roxanne Brown, a loving daughter, cousin, niece and friend, entered into God's loving arms on Saturday, July 16, 2022. A graduate of South Iredell High School, Jody dedicated her life to caring for others, starting with her parents.
Her dad, James Frank (Buddy) was not only her father, but he was also her best friend. They truly shared life together, including their current project of rebuilding her motorcycle. Her mother Carolyn, died in 1997, and Jody loved her mother forever and always. They had a strong, loving bond. Buddy remarried, and then Jody loved Jan.
When Jody was young, her "Granny Cash" moved in, and they shared so much time together. Jody realized that caring for others would be her goal in life, especially those who could not always care for themselves. After earning her Master of Arts in Speech Language Pathology at her beloved Appalachian State University, she launched into geriatric healthcare, sometimes mentioning that it reminded her of her Granny. Jody's co-workers and friends were amazed at how much she did for those she personally cared for each day, and often into the night.
Jody's family was always dear to her heart. She was not able to spend as much time with extended family as she would have liked, but when she could, it was always a good time. Her "dry wit" would have you laughing out loud. She also enjoyed verbal "sparring," and we all know who her sparring buddies were. Jody's love extended to friends who often journeyed with her to App State football games, the beach and the mountains. She loved those friends and those trips! She became the guardian of one of her patients, Leo Currence, to ensure that he would have a fulfilling life, and they loved each other deeply. Her love for nature and animals was evident to all who knew her. She fed and looked after her own furry friends and any that ever crossed her path. Her dedication to preserving nature and animals prompts the family to request that memorial donations be made to a local animal rescue organization, or to the Shriner's Hospital for Children, c/o Oasis Shriners, 604 Doug Mayes Place, Charlotte, NC 28262.
The family wishes to offer their deep and heartfelt appreciation to her healthcare team; the countless friends who called, sent cards and gifts and made cherished visits; and family who travelled far and wide to be by her side showing her how much she was loved. Jody appreciated her amazing family!
Jody was predeceased by her Brown and Overcash grandparents and her mother, Carolyn Overcash Brown.
Left to cherish her life are her dad, Buddy Brown; her stepmom, Jan; Leo Currence; her aunts and uncles; and many cousins.
A graveside service honoring her life will be held at Triplett United Methodist Church, 838 Mazeppa Road, Mooresville, on Wednesday, July 20, at 10:30 a.m. If able, please wear something gold and/or black (App State colors).
Cavin-Cook Funeral Home and Crematory, Mooresville, is serving the family. Condolences may be made to the Christy family at www.cavin-cook.com.