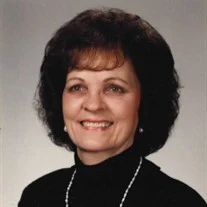 Louise Parker Christy, 89, of Mooresville, N.C., passed away on Sunday, July 17, 2022, at her residence. She was born March 12, 1933, in Rowan County, N.C., the daughter of the late Russell and Minnie (Tevepaugh) Parker.
Louise enjoyed growing and canning vegetables, designing flower gardens, sewing, cooking, art, spending time with her grandchildren, and helping others. In addition, Louise loved to hear and watch her family make music. She was a collector of coffee pots, spoons, hammered aluminum, and many other things.
In addition to her parents, Louise was preceded in death by her husband of 68 years, Harold E. Christy; and two brothers, Tommy Parker and Junior (Russell) Parker.
She is survived by three children, Don Christy and wife Sarita of Smyrna, Tenn., Ron Christy and Pam Banker of Smyrna, Tenn., and Dale Christy and wife Rose Anna of Mooresville; five grandchildren, Ron L. Christy Jr., Cody and Jordan Carpenter, Nicole Grissom and husband Seth and Parker Christy and wife Paige; and four great-grandchildren, Kylee and Rylan Brandon, Annabelle Anderson, and Coraleigh Carpenter; and siblings, Lucille Hedgecock, Sarah Pruitt, and Marshall Parker.
Funeral services will be held at 10 a.m. on Saturday, July 23, 2022, at the Cavin-Cook Funeral Home Chapel, Mooresville, with Rev. Eddie Karriker officiating. Burial will follow at Iredell Memorial Park, Statesville. The family will receive friends one hour prior to the service at Cavin-Cook Funeral Home.
Memorials may be made to Hospice and Palliative Care of Iredell County, 2347 Simonton Road, Statesville, NC 28625.
Cavin-Cook Funeral Home and Crematory, Mooresville, is serving the Christy family. Condolences may be made to the Christy family at www.cavin-cook.com.