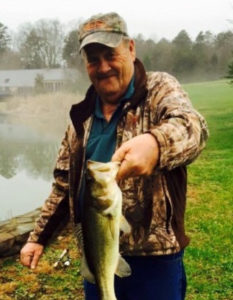 Roy Nelson Lambert, 76, of Statesville, N.C., passed away peacefully at his home surrounded by his wife and children on Sunday, April 24, 2022.
Roy was born on December 5, 1945, in Twin Branch, W.Va., to the late Frank Lambert and Sylvania Thompson Lambert. He attended Oceana High School until he left during his senior year to marry his wife, Joan Garrett Lambert, who survives. Roy was an avid outdoorsman, hunter and enjoyed fishing at many different clubs and teaching his kids all he knew. He worked most of his life as a coal miner.
In addition to his parents, Roy was preceded in death by four sisters and three brothers.
Roy is survived by his wife, Joan Lambert; sons, Rodney Lambert (Kim Lyons) and Shane Lambert (Elisha); daughters, Lisa Lambert Edmonson (John Kerby) and Kim Lambert Conley (Dan Maxwell); "second" sons, Timothy Pelphrey and Larry Hutchison; nine grandchildren; and eight great grandchildren. Also surviving are his two brothers, Doug and Freddy Lambert, and special friend, Jerry Graham.
A memorial service will be held at 1:30 p.m. Sunday, May 1, 2022, at Eufola Baptist Church with Rev. Jerry Graham, from West Virginia, and Pastor Jake Potter officiating.
In lieu of flowers, memorials can be made to Matheny Church of God, 146 Coon Branch Road, Matheny, WV 24860 or Eufola Baptist Church, 207 Carriage Road, Statesville, NC 28677.
Troutman Funeral Home is serving the family.