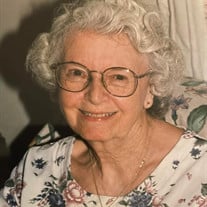 Kathleen Freda Wheeler Coates Bates, 97, died peacefully at home on Saturday, May 7, 2022, surrounded by family and caregivers. Born in Sherbrooke (Belvedere), Quebec, Canada, on July 20, 1924, Kathleen was preceded in death by her parents, Etta Mabel (d. 1983) and Frederick Ernest Wheeler (d. 1979), sister, Margaret (d. 1930) and husbands, Herbert Wright Coates (d. 1976) and Lawrence Preston Bates (d. 2013).
With four boys, Kathleen and Herb moved the family to Charlotte, N.C., in 1956 and became U.S. citizens in 1965. After Herb's untimely death in 1976, she married Lawrence Preston Bates in 1978. Her marriage to Larry expanded her family with the addition of two wonderful stepchildren. Before her retirement, Kathleen was employed as an Administrative Assistant for the Salvation Army Headquarters in Charlotte. In retirement, Kathleen and Larry enjoyed "wintering" in Florida, visiting family, and special tours and trips around the country and to more distant destinations like Hawaii, Alaska, the Holy Land, and Canada.
As long as she was able, Kathleen was always busy doing something for others. She sent countless birthday cards and letters to extended family and friends. She knitted constantly, making shawls, scarfs, afghans, sweaters, mittens, and personalized Christmas stockings for the family. She was an accomplished water-color artist, an amazing skill developed in her retirement. She loved crossword puzzles and a good cup of Red Rose tea. A favorite activity was holding "Tea Parties" for friends and especially for her grandchildren, making little "goodie baskets" and sweet treats for them to enjoy.
Kathleen was a dedicated church member. She was heavily involved in the ministries of Saint Andrew's Presbyterian Church in Charlotte, where she and her husbands were regulars in the choir. After moving to Cornelius to be closer to family, the Bates joined First Presbyterian Church in Mooresville, where they were active in the life and ministry of the congregation. Kathleen's cheery, engaging demeanor endeared her to many with whom she served in the various programs and ministries of the church. When health precluded her being physically present, she still participated in the weekly worship with the congregation through its online streaming.
She is survived by her children, Leslie, Fred (Jean), Cameron (Linda), Paul (Jackie), Apryl (Gene), and Perry (Mary); and by grandchildren, Andrew (Kathryn), Ashley (Josh), Corelyn, Emily (Josue), Ethan (Erin), Genevieve (Dave), Keith, Laura (Jony), Mandy (Blake), Mark C., Mark N., Matt (Kelly), Matthew, Michael, and Sarah (Scott); and great grandchildren, Ada, Campbell, Cannon, Carson, Chloe, Christopher, Cody, Conner, Ella, Everette, Ian, Isabella, Jackson A., Jackson S., June, Maddie, Melissa, Miriam, Phoebe, Rose, Tiffany, Tori, Trent, Trevor, Trey, Tyler, Violet, and Zachary.
A family graveside will be held on Saturday, May 14, at the Sharon Memorial Park in Charlotte, N.C., with a Celebration of Life service held at 2 p.m. on Sunday, May 15, at the First Presbyterian Church, 249 West McLelland Avenue, Mooresville, N.C., with a reception following.
In lieu of flowers, donations may be made to the church or to Hospice and Palliative Care of Iredell County.
Cavin-Cook is providing service for the family. Condolences may be made to the family at www.cavin-cook.com