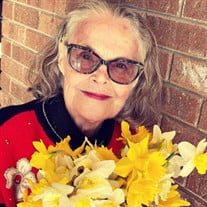 Veda Mae McLeod Rogers, 83, of Statesville, N.C., passed away on Monday, June 13, 2022, at the Gordon Hospice House. Born on August 11, 1938, in Cave City, Ark., she was the daughter of the late Orin McLeod and Winnie McLeod.
Veda Rogers had a strong faith in God and was a member of Fairview Baptist Church in Statesville. She was a sales associate at various department stores, including Spainhour and Belk from which she retired. She had a passion for bird watching and gardening. She loved and cherished her children, grandchildren, great-grandchildren, nieces and nephews.
In addition to her parents, she was preceded in death by her husband, Jack Rogers; her two grandchildren, PV2 Diamond J. Kennedy and Kaitlyn Rogers; her sisters, Juanita Crouse and Darelyne Money; and her brother, Walter McLeod.
Those left to cherish her memory include her children, Cynthia Rogers, Steve Rogers and his wife Wendy, Patricia Noisette and her husband Maurice, Robert Rogers, and Jennifer Shephard and her husband Roderick; her grandchildren, Jessica Holloway and husband Brad, Joshua Wilson, Ryan Rogers, Caroline Rogers, Donnel Kennedy, Kobe Kennedy, Krystal Kennedy, Lauren Rogers, Allye Rogers, Deveron Shephard, Annarah Shephard, and Jenayeda Shephard; her great-grandchildren, Jack, Lucy, Aliyah, Jade, Jewel, Marley, and Macey; her sister, Glenna Ivie; and her sister-in-law, Catherine Inman Rogers.
Services celebrating the life of Veda Rogers will be held at 2 p.m. on Saturday, June 18, 2022, at Fairview Baptist Church with Dr. Scott Eanes officiating. The family will receive friends in the sanctuary for one hour prior to the service. Burial will follow in the church cemetery.
For those who wish, memorial contributions may be made to Hospice & Palliative Care of Iredell County, 2347 Simonton Road, Statesville, NC 28625 or to Fairview Baptist Church, 349 Turnersburg Highway, Statesville, NC 28625.
Online condolences may be made to the family at www.nicholsonfunerals.com.
Nicholson Funeral Home is serving the family.