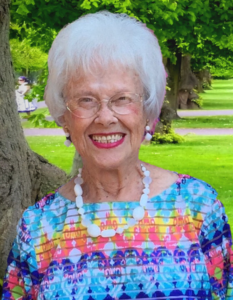 Laura Lou Henkel Byers, 91, passed away Tuesday, May 17, 2022, at Rosewood Assisted Living in Harmony, N.C., following a stroke.
Known for an infectious smile that lit up every room and a soaring soprano voice that filled every sanctuary, Laura received many awards and honors throughout her life. But family and friends know that she took special delight in these three: serving as valedictorian of the Class of 1949 at Statesville High School; winning the Miss Statesville Pageant in 1951, and receiving the honorary title of "Queen of Anderson Park" at a 2017 ceremony that made the front page of the Record & Landmark.
A lifelong Statesville resident, Laura attended Mitchell Community College before entering the work force. Her first job was secretary to A.E. Guy, then city clerk and treasurer. From there she joined Interstate Equipment Co. as secretary for K.C. Eller. Then she became a legal secretary for the law firm of Adams, Dearman & Winberry and later for Judge C.B. Winberry until his death. After her secretarial career, she worked for 15 years as a substitute teacher in the city school system.
But her true passion was music. She sang in the choir at Race Street United Methodist Church for 45 years, was an active member of the MacDowell Music Club and participated in the Choral Clinic each year. She sang at many weddings and funerals. Laura also sang in two local bands in the late 1940s and early 1950s — Bob Seymore & His Men of Note, and 3 Honeys and a Bee. Laura and her husband Earl joined First ARP Church in Statesville about 20 years ago, after Race Street closed.
After insisting for years that she couldn't understand why so many people walked for exercise and fun, Laura became a fixture at Anderson Park not long after it opened. At her peak she walked four miles a day and probably picked up the equivalent of four pounds of trash along the trails. She cherished the many friendships she made at the park over the years, especially with the "Park Pals," who organized the 2017 ceremony, had a bench named for her, and generally doted on her.
Laura was a devoted daughter, wife, mother, and grandmother who loved being around people. She never met a stranger.
Laura was preceded in death by her parents, Henry Long Henkel and Faye Sherrill Henkel; stepmother, Lois Thompson Henkel; sister, Marian Frank (Frankie) Henkel Sherrill; half-sister, Margaret Lester Connor; half-brother, Henry Thompson Henkel; and her husband of 49 years, Earl S. Byers. Also preceding her in death were two cousins in Statesville whom she loved dearly, Shirley Henkel and Barbara Henkel Horne.
She is survived by her son, Steve Byers of Greensboro, N.C.; and two granddaughters, Hannah Byers, of Arlington, Va., and Sophie Byers, of Huntsville, Ala.
Special thanks to Dr. Thomas Templeton, who was her physician for many years and then became a dear friend and confidant. Laura could (and did) call him at any time of the day or night with a concern or medical issue, and he would show up within minutes. Also special thanks to Sheila Davidson, who served as Laura's primary caregiver for three months last year when she still lived by herself, as well as the staff at Rosewood. They made her feel at home immediately and kept her safe and happy as her dementia worsened.
The family will hold a celebration of life gathering at a later date. Those wishing to make donations in Laura's memory may consider the Lonely Children's Fund, the Alzheimer's Association, the American Cancer Society, or a charity of your choice.
Troutman Funeral Home is serving the family.