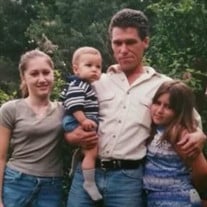 Laurent "Larry" Daniel Fauteux, 56, passed away on Wednesday, June15, 2022, at Cabarrus Atrium Health in Concord, N.C. Born on March 30, 1966, in Nashua, N.H., he was the son of the late Fernand Fauteux and Monique Fauteux.
Larry had several hobbies, including his passion for music. He loved playing his guitar and singing country music with his family and to his young children. He enjoyed shooting billiards with his family and friends. He loved building race cars with his late best friend, Larry Bron, for the Hudson Amateurs. Larry also loved to "Two-Step" with whomever was able to keep up. Larry also loved working in construction with his father and brothers. He helped their dad build his dream home in Londonderry and never looked back at doing anything else for a living.
In addition to his father, Fernand Fauteux, Larry was preceded in death by his maternal grandparents, Alphonse and Marie Boutin; and his paternal grandparents, Hector and Marie Anne Fauteux.
Those left to cherish his memory include his daughters, Vanessa Vigneau and her husband Shawn, and Jessica Neve and her husband Tony; his son, Adam Fauteux; his grandchildren, Isla Vigneau, Matthew Neve, and Emily Neve; his sisters, Diane Gowitzke and her husband Billy, Sue Holdsworth and her friend Eric Potter, and Lisa Cross and her husband Daniel; and his brothers, Ray Fauteux and Donny Fauteux
A Celebration of Larry's Life will be held at 2 p.m. on Saturday, June 25, 2022, in the Chapel of Nicholson Funeral Home.
To view Larry's Celebration of Life Service live, please visit https://view.oneroomstreaming.com/authorise.php?k=1655663118190924.
Online condolences may be made to the family at www.nicholsonfunerals.com.
Nicholson Funeral Home has the honor of serving the family.