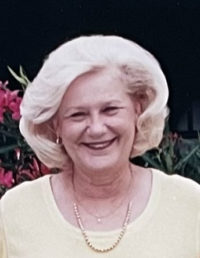 Lynda Diane Strange Boyd, 77, of Hickory, N.C., passed away Wednesday, December 28, 2022, at Trinity Village.
Mrs. Boyd was born September 25, 1945, in Sumter, S.C., and was the daughter of the late Henry Nelson Strange Jr. and Elizabeth White Strange. She graduated from Columbia College in Columbia, S.C., and on November 24, 1967, she married The Rev. Dr. John Ebenezer Boyd Jr., who survives.
She taught business and medical education for Rowan Cabarrus Community College for 25 years. She enjoyed reading, needle pointing, making Christmons and working in the yard. She especially enjoyed spending time with her grandchildren.
In addition to her husband, she is survived by two daughters, Kristen Boyd Parker (Tony) of Chapel Hill, N.C., and Amanda Boyd Cox (Zach) of Hickory, N.C.; four grandchildren, Kyle Parker, Rebecca Parker, Addison Cox, and Walker Cox; and one sister, Judy King of Concord, NC.
Graveside funeral services will be held at 1 p.m. on Saturday, January 7, 2022, at Oakwood Cemetery, in Statesville, N.C. The family will visit with friends following the service.
In lieu of flowers, memorials may be made to Calvary Lutheran Church Pre-School, 950 Bradley Street NE, Concord, NC 28025.
Troutman Funeral Home is serving the family.