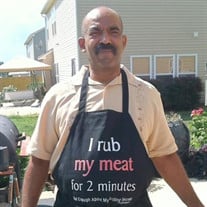 Willie Dwayne Valentine, 67, of Statesville, N.C., passed away on Tuesday, December 27, 2022. Known affectionately as Dwayne by all of his family and friends, he was born November 18, 1955, to Rosa E. Valentine (née Dancy) and the late Elijah A. Valentine in Ft. Riley, Kan.
Growing up in Pittsburgh, Pa., Dwayne loved to share his imagination through his drawings. This love of drawing directed him to drafting classes, an apprenticeship with the Corps of Engineers and a career as a CAD draftsman. His impressive CAD talents secured him employment with Ingersoll-Rand at the Mayfield, Ky., facility where he met and married his best friend and loving wife, Elizabeth (Darlene). Dwayne enjoyed a 34-year career with Ingersoll-Rand's locations in Kentucky and North Carolina as a design engineer. In his free time, he enjoyed fishing, camping and grilling for and spending time with his family. Planning for retirement, Dwayne and Darlene purchased a camper to travel the country with their fur son, Chase J.
Dwayne is survived by beloved wife Elizabeth D. Valentine; son Jeremy (Gernise) Hughes; and daughters Cherisse Hughes and Amanda Valentine. He is also survived by his mother, Rosa Valentine; brother Ronnie Valentine; and sister Renee Valentine. Affectionately called GaGa, he was the superhero grandfather to Journie Dawson, Taiziah Hughes, and Jordan Waller; beloved brother-in-law to four brothers and two sisters, and he also leaves behind a host of adored nieces and nephews.
In lieu of flowers, his family ask that you make donations to Marines Toys for Tots at https://www.toysfortots.org. This organization was very near and dear to his heart.
Nicholson Funeral Home is serving the family.