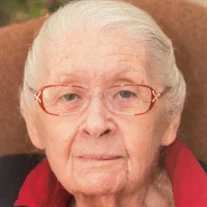 As a loving woman dedicated to God, her family, and helping others, Martha Lore Hull Ulmer, 89, of Statesville, N.C., went to be with her Lord and Savior on Thanksgiving Day, November 24, 2022.
Martha was born on June 8, 1933, in Mt. Airy, N.C., to Elbert Lee Hull Sr. and Mary Booker Hull. Upon graduating from Mt. Airy High School in 1951, Martha fulfilled her dream of becoming a nurse by graduating from the Bowman Gray School of Medicine of Wake Forest in 1954. During her time there, she was known as "Hull," the photographer for the yearbook, and she voted as the "wittiest" by her classmates. The description of Martha in her yearbook states: "She has enough sense and nonsense to make her a charming girl." After receiving her RN, she accepted a position at The Baptist Hospital. Over the years, Martha fondly recalled her years in Winston-Salem with happy memories and would proudly share that she was the youngest charge nurse at that time.
On Easter Sunday, April 6, 1958, Martha married Buddy and embarked upon a new adventure where she would spend the rest of life focused on her family. After living in Wilson, N.C., where she gave birth to her first son, Ernie, she and Buddy continued their journey by living in Richmond and Williamsburg, Va., before settling down in Chesapeake, Va. It was in Chesapeake, where Martha gave birth to her second son, Phillip; raised her sons; developed life-long friendships; and remained for the next 51 years.
After pausing to raise her children, Martha returned to her passion of nursing by becoming a school nurse for the Chesapeake School System. Respectfully known as Nurse Ulmer, she devoted 20 years to working with students and their families in a low-income area. In addition, Martha's passion for helping others was also extended to animals. She had a great compassion for helping animals in need. Martha supported the Humane Society and even kept water and dog food in the trunk of her car just in case she came across a hungry dog. In fact, some of her fond memories over the decades included her beloved, four-legged family members, Muffin, Jones, Tippy, and Gretchen.
Martha was a devout Christian and a member of the Northview Church of Christ. From being a Sunday school teacher and volunteering at Idlewild Christian Camp to supporting missionaries and people in need, Martha was steadfast in her beliefs. The Ulmer house was often a central meeting place for church singalongs and youth-group gatherings. Her Church family was her extended family. From bonfires, potlucks, and ice-cream socials to caring for sick friends and helping to host lectureships, Martha shared many laughs and tears with her special Church family over the years.
In 2016, Martha transitioned to Statesville, N.C., to be close to her son Ernie and his wife Denise, who oversaw her care for the last six years. With family close by and the support of the staff at Brookdale Assisted Living, Martha rediscovered a life of laughter and activities. She especially enjoyed attending regular devotionals and church sing-alongs. One of her special times of the month was when a group of singers from Northview Church of Christ came to have a song service at Brookdale; Martha rolled up front and happily joined the group in singing hymns.
In addition to her parents, Martha was preceded in death by her husband, Ernest "Buddy" Burns Ulmer; her brother, Elbert Lee Hull Jr.; and her sister, Polly Ann Hull.
Left to cherish her memories are her sons, Elbert Ernest (Ernie) Ulmer (Denise) of Statesville, N.C., and Dr. Phillip Gregory Ulmer of Tokyo, Japan; granddaughter, Tara Ulmer Yale (Jerry); two grandsons, Clint Ulmer and Lee Ulmer; great granddaughter, Mary Grace; two great grandsons, Elijah and James; and a special, dear friend, Willa Capps of Chesapeake, Va.
A service to celebrate Martha's life will be held at 3 p.m. on November 28, 2022, at Nicholson Funeral Home, 135 Front Street, Statesville, NC 28677. The family will receive friends one hour prior to the service. Burial will occur later in the week at Meadowbrook Memorial and Cremation Gardens, 4569 Shoulders Hill Road, Suffolk, VA 23435.
You may watch the service live at https://view.oneroomstreaming.com/index.php?data=MTY2OTUxMDc0MTIyMTI4MiZvbmVyb29tLWFkbWluJmNvcHlfbGluaw==
Nicholson Funeral Home is serving the family.