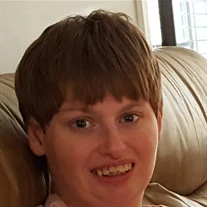 Megan Taylor Shutler, 27, of Mooresville, N.C., went peacefully to be with the Lord on Sunday, May 8, 2022, surrounded by her family. She was born June 14, 1994, in Iredell County, N.C.
Megan was a very loving young lady who met the daily challenges in her life with unimaginable determination. She touched many lives during her time here on earth. She showed courage and love and had a feisty personality. Her struggles were great but she knew nothing different.
Megan attended Iredell-Statesville Schools and Mooresville Graded School District until she turned 18. She then received services through the Innovations Waiver Program, which helped to provide services to her so she could remain in her parents' home. Carol Weed served as a caregiver for Megan for over 20 years. She was also blessed to have Crystal Livingston and Tandra White to provide direct support so Megan could attend a day program in Troutman for several years. Megan enjoyed being a part of Girl Scouts and going to Camp Ginger Cascades. She also enjoyed shopping, going to church, eating out and going to the beach each summer. She loved her dog Luke and a special kitty named JoJo. Family and routine were very important to her. She loved carrying her purse wherever she went and enjoyed coloring and listening to music. She especially enjoyed watching for buses off the back porch at home or peacefully watching the boats and geese off the porch at Carol and Ronny's home. Megan was loved and she gave love unconditionally to everyone.
She is survived by her parents, Timothy and Lisa Shutler of Mooresville, N.C.; brothers, TJ and Noah Shutler of Mooresville; grandmother Irene Mellor of Mooresville; uncle Dave Mellor of Washington state; uncle Dan Mellor of Arizona; aunt Jeanne McKenzie of South Carolina; uncle Joe and aunt Becky Shutler of Washington state; aunt Dawn Lynn and uncle Brad Vannest of Wheeling, W.Va.; aunt Cathy and uncle Mel of West Virginia; aunt Susan and uncle Jerry Coffey of Tennesse, uncle Hodge and aunt Carolin of West Virginia; cousins Kerry McKenzie, Mandi West, Greg McKenzie, Chris McKenzie, Brian McKenzie, Jason Kane, Kristin Smith, Brady Vannest, Sean Vannest, Alex Vannest, Morgan Shutler, Chanry Shutler, Lily Shutler, Carter Curry, Sean Shutler, Breanne Coffey and Shannon Coffey. Also, longtime caregiver Carol Weed (and husband Ronny) of Mooresville, N.C.
A Celebration of Megan's life will be held at 9 a.m. on Saturday, May 14, at Cavin-Cook Funeral Home. The family will receive friends immediately following the service at the funeral home.
In lieu of flowers, memorial donations may be to Girl Scouts Carolinas Peaks to Piedmont, c/o Resource Development, 8818 W. Market Street, Colfax, NC 27235. Please designate for Camp Ginger Cascades camperships to give more girls the opportunity to experience the magic of Girl Scout camp or LGS Foundation, 6030 Santo Road, Suite 1-420878, San Diego, CA 92142. Online donations can be made by going to LGSfoundation.org.
The family would like to extend their appreciation for the care Megan received while at the S. Mitchell Mack Hospice House in Mooresville. The medical staff showed compassion and provided excellent care. Megan's life journey brought many different people into the family's lives. They are so thankful for each and everyone who showed Megan patience and understanding and who helped to enrich her life with theirs. There were teachers and assistants (special thanks to Mary Barnette, Delaine Deal, Lisa Cooper, Jay Taylor and Julie Parlier), volunteers, peer buddies, nurses, doctors, caregivers, neighbors, friends, church members and extended family.
Cavin-Cook Funeral Home & Crematory, Mooresville, is serving the Shutler family. Condolences may be made to the family at www.cavin-cook.com.