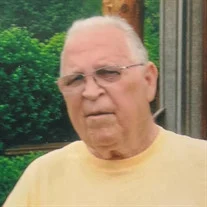 Melvin Eugene Fulbright, 79 of Statesville, N.C., passed away on December 12, 2022. Melvin was born in Iredell County in 1943 to the late Euphia and Noel Fulbright. He was one of 14 siblings, seven boys and seven girls. He was predeceased by 11 siblings; his wife of 41 years Mary Lois; and his son Chip.
He is survived by two sisters, Hilda Sue Fulbright and Margaret Lackey; his stepson, Jeff Mecimore (Vickie); Randall Thompson (Patricia); six grandchildren; and one great grandchild.
Melvin loved family get-togethers, drag racing and old cars. He also loved using his pullback grill, since 1993, to cook BBQ chicken for the benefit of the underprivileged.
Special thanks to his daughter-in-law Patricia who took care of Melvin 24/7 since October, and she should be blessed for that.
The family will receive friends from 10 to 11 a.m. on Friday December 16, 2022. Funeral Services will be held at 11 a.m. at Eufola Baptist Church with Pastor Jake Potter officiating. Burial will follow the service at New Sterling Cemetery.
Nicholson Funeral Home has been entrusted with the arrangements. Online condolences may be made to the family at www.nicholsonfunerals.com.