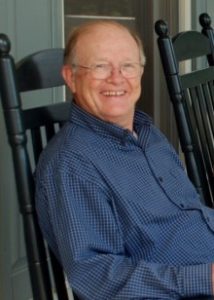 Michael Caldwell Eudy, 73, of Statesville, N.C., died on January 20, 2022, at Davis Regional Medical Center. He was a beloved husband, father, grandfather, brother, and church elder. He was born January 6, 1949, in Iredell County, the son of Luther and Lela Mae Eudy.
Mike graduated from the University of North Carolina Chapel Hill from the School of Pharmacy. At UNC, he met and married a young nurse, Linda. This past May they celebrated their 50th wedding anniversary. Mike was a Christian. Everything about Mike's life was shaped around being a faithful follower of Jesus Christ. Mike was serious about knowing and understanding the Bible. He was devout in holiness, full of joy, and a man of prayer. Mike was a founding member of Grace Alliance Fellowship, where he faithfully served as an elder and Bible teacher for decades. Mike was a pillar and support of the truth, loving Jesus His Savior and serving the people of the local church with persevering joy.
Mike was an independent man, a hard-working, risk-taking businessman. He started Family Pharmacy, and through many years of discipline and industry, he and Linda achieved many of their life-long dreams. Mike sought after the classic American dream – a good plot of land all his own, some cattle, a tractor to cruise around on, and a pond to fish in. By the grace of God, he and Linda achieved these goals, including building his own home. Much of the house he built himself, including a walnut paneled library, which was paneled by walnut cut from his land and milled by his own hand.
Mike was a great American and a passionate patriot. He loved and fought to preserve the Christian constitutional foundations of this great country. He zealously encouraged others to learn about the founding of America and care about principled governance. He understood the necessary connection between Christian moral character and constitutional government. One cannot exist without the other.
Mike did not plan to die this week. Man knows not his time (Ecclesiastes 9:12). He was suddenly taken to the Emergency Room and had to be put on a ventilator due to aggressive Covid-pneumonia. He didn't have any final conversations with anyone – but he didn't need to. He didn't need to resolve things or make things right. He had lived with resolution and conducted himself with honor. His wife knew he loved her and was left well provided for. He had no embarrassing secrets to hide. Instead, he had a long line of people coming forward to speak of his Christian character and goodness. He was an honorable man that finished his life well. He went out with his boots on, which was the way he wanted it. He is now unquestionably with Jesus Christ. Not by some vague notion, but by faith in the finished atoning work of Jesus Christ on the cross. Because of the resurrection power of Jesus, Mike now also lives, even though he has died (John 11:25-27). What was faith is now sight. What was seen dimly and from afar is now seen face to face (1 Corinthians 13:9-13).
Mike is survived by his wife of fifty years, Linda Eudy; his son Joseph Eudy and wife Angela of Statesville; son Joshua Eudy and wife Gretchen of Statesville; and daughter Maria Carpenter and husband Victor of Fredericksburg, Va., sisters Anita Eudy and Cathy Eudy of Statesville; sister Lisa Pierce (and husband Terry) of Brevard; and brother Robert and wife Pam of Statesville. He also leaves behind eleven grandchildren.
Services celebrating his life will be held on Thursday, January 27, 2022, at 11 a.m. at First Baptist Church, Statesville. The service will be officiated by Pastor Charles Wall. The family will receive visitors in the sanctuary at 10 a.m. prior to the service. Parking should be at Bunch Johnson Funeral Home.
"I have fought the good fight, I have finished the race, I have kept the faith. Henceforth there is laid up for me the crown of righteousness, which the Lord, the righteous judge, will award to me on that day, and not only to me but also to all who have loved His appearing." (2 Timothy 4:7-8)
Fond memories and expressions of sympathy may be shared at www.bunchjohnsonfuneralhome.com for the Eudy family.
Bunch-Johnson Funeral Home is serving the family.