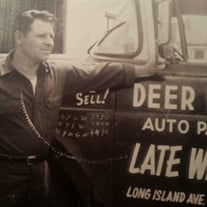 Michael "Boobi" Gustove Valentine, 94, of Statesville, N.C., passed away on Saturday, January 15, 2022, at Accordius Health of Statesville.
He was born on January 5, 1928, in Bronx, N.Y., to the late Charles and Laura Strack Valentine. He was retired from management of DPA Auto Wreckers after 50 years. Mr. Valentine loved watching racing and was an avid Jeff Gordon fan.
In addition to his parents, he was preceded in death by his wife, Lorraine; daughters, Audrey and Diane; son, Billy; sisters, Mary and Margaret; and brothers, Charles, Richard, and William.
He is survived by his children, Laura and husband Ed, Joyce, Gil, and Bobby; brother, Carl and wife Joan; grandchildren, Edward, Michael, and Michael and wife Heather; and great grandchildren, Vaden and Avril.
A Memorial Mass to be held at a later date at St. Therese Catholic Church, Mooresville.
Cavin-Cook Funeral Home & Crematory, Mooresville, is serving the Valentine family. Condolences may be made to the family at www.cavin-cook.com.