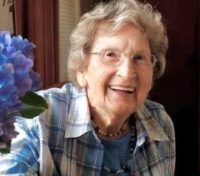 Nickie Carter Haithcox, 95, of Statesville, N.C., passed away October 25, 2022, in her home. Nickie was the last of ten children. She was born December 15, 1926, to Henry Carter and Beaulah Lowthorp of Iredell County, N.C.
Nickie was preceded in death by her parents, Henry and Beaulah; her husband, Joseph "Lint" Haithcox; and son, Ricky Haithcox, who was killed in action during the Vietnam War.
Those left to cherish her memory are her daughter, Donna Lackey (Lee) of Mooresville; sons, Jay Haithcox (Deborah) of Statesville, Douglas Haithcox (Donna) of Jensen Beach, Fla., Ted Haithcox of Statesville, and Max Haithcox (Connie) of Monroe; ten grandchildren; eleven great grandchildren; and numerous nieces and nephews.
Nickie graduated from Cool Springs High School, Class of 1943. She was a lifelong member of Abilene Church of Christ. She baked and sold many cakes under her name "Nickie's Cakes." She was also a long time member of the "Wild Goose" quilting club, making many quilts and crafts.
Services for Nickie will be held Friday, October 28, 2022, at Abilene Church of Christ. A viewing will begin at 1 p.m. with service at 1:30 p.m. Burial will follow in the Abilene Church of Christ Cemetery. The family will receive guests at the church fellowship hall following the service.
In lieu of flowers, the family has requested donations be made to Hospice of Iredell County in Nickie's memory.
Bunch-Johnson Funeral Home is serving the family.