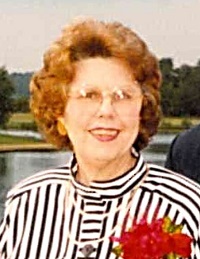 Pinkie Catherine Young-Smith passed away on September 10, 2022, at the age of 99 years. Born September 3, 1923, the daughter of Wilfred Long Young and Annie Pearl Miller-Young, Pinkie was a long-time resident of Iredell County. She graduated from Cool Spring High School and studied secretarial science at Mitchell College. During World War II, she worked for the Navy shipyard in Newport News, Va. After returning to Statesville, she worked for Iredell County Sheriff Walter Morrison and the JC Penny warehouse.
Following the death of her first husband, Julius Brockman "Brock" Earl in World War II, Pinkie married Ray Bost Smith on September 1, 1949. They were married for 73 years upon her death. Pinkie was preceded in death by her parents; her sister Betty Jean Young-Massey; and brother Jerry Shuford Young.
Pinkie is survived by her husband, World War II veteran Ray Bost Smith; children, Vinson Young Smith, Amy Smith Gunthorpe and husband Douglas Melton Gunthorpe, and Leslie Smith Sams and husband William (Bill) Trotter Sams; grandchildren Kathryn Marie Gunthorpe and Andrew Trotter Sams; great-granddaughter, Ada Marie Sams; step great-grandson, Dante Sams; and many nieces and nephews.
Pinkie was a strong woman, devoted wife, parent, and grandparent. A member of St John's Lutheran Church in Statesville, she will be remembered for her unconditional love and service to her family and the community.
The family will visit with friends at 1 p.m. Saturday, September 17, 2022, at Troutman Funeral Home. A funeral celebrating the life of Pinkie Smith will be conducted at 2 p.m. following the visitation at Troutman Funeral Home Chapel. Burial will follow the funeral service at Oakwood Cemetery in Statesville. Pastor Tom Corbell will preside with eulogies by Kathryn Marie Gunthorpe and Andrew Trotter Sams.
Those wishing to make memorials are asked to consider St Jude's Children's Hospital.
Troutman Funeral Home is serving the family.