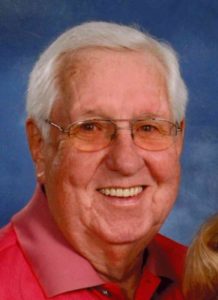 Mr. Raymond Jurney Wilson Jr., known as "RJ" to everyone, 86, of Troutman, NC., passed away peacefully on June 6, 2022, following a surgery and brief illness.
RJ was born on December 27, 1935, to Raymond J. and Desie Millsaps Wilson of the Central community in Northern Iredell County. He was a 1954 graduate of Central High School and attended Pfeiffer College on a baseball scholarship. RJ was a man of many talents. He excelled in all athletics and academics, and was always personally driven to be the best at anything he attempted in life.
RJ's professional career began in the drafting department at Kewaunee Scientific Company in Statesville. He was head of the drafting department, but they really hired him to play fast-pitch softball for their team in the very competitive district league! He met his future wife, Patty Sherrill, who also worked at Kewaunee at that time, and they were married January 9, 1957, setting up a home in Troutman. Later RJ joined Troutman Industries in Troutman as a salesman for their Belk menswear line. He continued his career in menswear sales until his retirement, when he started his own specialty graphics and monogram apparel business, Troutman Apparel, out of his home office and enjoyed that for many years.
RJ is survived by his wife of 65 years, Patty S. Wilson; and his three children, Kim Wilson Lippard (Stan) of Statesville, Mark Wilson (Penny) of Troutman, and Eric Wilson of Statesville. He is also survived by six grandchildren, of whom he was very proud, Adam Lippard (Brandi) of Mooresville, Beth Anne Campbell (John) of Statesville, Luke Lippard (Angela) of Statesville, Jordan Wilson (Neil Stutts) of Statesville, Jon Mark Wilson (Kim Bessent) of Statesville, and Mary Charles McConnell (Patrick) of Huntersville. There are also nine great grandchildren that he adored, and he loved to show them his Lone Ranger and tin circus toys and BB gun collection. RJ is also survived by one sister, Barbara W. Benfield of Statesville.
Services for RJ will be held at 2 p.m. on Friday, June 10, 2022, at Troutman First United Methodist Church, 204 Mills Avenue, Troutman, NC 28166. Pastor Jeff Hamerick will officiate, and the family will receive friends in the fellowship hall following the service.
Memorials for RJ can be made to Troutman First United Methodist Church, PO Box 717, Troutman, NC 28166, or to the charity of the donor's choice.
Troutman Funeral Home is serving the family.