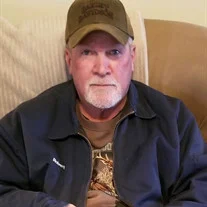 Robert Franklin Garrison left his earthly home and family to be with his Heavenly Home and Family on December 25, 2022, at 4:50 p.m. at Novant Health Rowan, Salisbury, N.C., with his family by his side.
Robert, the son of Doris Goodman Walden and the late Fred Thomas Garrison, was born February 1, 1957, at Lowrance Hospital in Mooresville, N.C.
Robert attended West Rowan schools and graduated from West Rowan High in 1976 where he played his favorite sport (football) for the West Rowan Falcons. Robert also attended Rowan-Cabarrus Community College, where he received a degree in Heating, A/C and Refrigeration. He was first in business for himself and then worked for MAN Truck & Bus Co., Cleveland, N.C., until that business closed. He then began working for Freightliner Inc., Cleveland, N.C., in 1989 and continued working there for 31 years until his retirement on October 30, 2020.
He was a lifelong member of Amity Lutheran Church, but also attended and supported Salem Lutheran Church all during his married life. Robert enjoyed spending time with his family, hunting, fishing, watching sports, and hanging out with and helping his friends when there was a need.
Preceding him in death were his wife and high school sweetheart, Beverly Petrea Garrison, who passed away in 2017; stepfather, Robert Walden; brothers, Randy Garrison and Milton Walden of Cleveland, N.C.; and sister, Pamela Kluttz of Salisbury, N.C.
Those left to cherish his memory are sons, Brandon Garrison of Troutman, N.C., and Andrew Garrison of Cleveland, N.C.; daughter Hannah Garrison and grandson Joshua Cauthen Jr. of Clemmons, N.C.; mother Doris Walden of Cleveland, N.C.; sisters Darlene Harris of Salisbury, N.C., and Teresa Tino of China Grove, N.C., along with nieces, nephews and cousins.
Visitation will be held on Friday, December 30, 2022, at 1 p.m. at Salem Lutheran Church, 5080 Sherrills Ford Road, Salisbury, N.C., in the church parlor. Funeral services will follow at 3 p.m. in Salem Church Sanctuary with Rev. Carroll Robinson officiating. Burial will follow in Salem Lutheran Church Cemetery.
The family would like to thank Doctors Mitro and Brinkley of the Wallace Cancer Center for all of their caring and compassion for our father during his illness. Also, Comfort Keepers and all their caregivers for helping to take care of our Dad.
Memorials may be made to Amity Lutheran Church, 1367 Ostwalt Amity Road, Cleveland, NC, 27013; Salem Lutheran Church, 5080 Sherrills Ford Road, Salisbury, NC, 28147; or to the American Cancer Society, 1901 Brunswick Avenue, # 100 Charlotte, NC 28207.
Cavin Cook Funeral Home, Mooresville, NC, is serving the Garrison family.