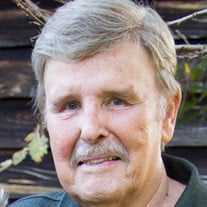 Robert "Bob" Joe Shoemaker, 88, of Harmony, N.C., passed away peacefully December 10, 2021, at his home surrounded by his family.
He was born May 11, 1933, in Burlington, N.C., the son of the late Glenn Franklin Shoemaker and Gertrude Hedgepeth Shoemaker. He was also preceded in death by his son, Brian Keith Shoemaker.
Bob loved his Lord, and his deepest desire was to know that all of his children, grandchildren, and great-grandchildren would know and believe in this same Lord so that they would be saved and have a home in Heaven with him and the Lord. He also loved his country and served honorably in the United States Marine Corps during the Korean Conflict.
Bob was employed with the U.S. Postal Service and retired after a 32-year career. He attended Mt. Sinai Evangelical Methodist Church.
Left to cherish his memory are his devoted wife of 46 years, Gladys Shoemaker; children, Gary Lee Shoemaker (Toni Overcash), Nancy Kay Walker (Paul Boger), Michael Shoemaker, Steven Shoemaker (Wendy) and Joe Shoemaker (Silvana); grandchildren, Shanna, Corey, Casey (Britney), Zack (Courtney), Kaytlyn, Matt, Lucas, Chris (Raquel) and Michelle; eleven great grandchildren; canine companion, Paco; feline companion, Pi; and numerous other loving family and friends.
A memorial service to celebrate his life will be held at 1 p.m. on Saturday, January 29, 2022, at Mt. Sinai Evangelical Methodist Church with Pastor David Kimbell officiating. The family will receive friends one hour prior to the service in the church sanctuary.
Flowers are welcome or make a donation to Toys for Tots this holiday season in Bob's honor.
Nicholson Funeral Home is assisting the family.