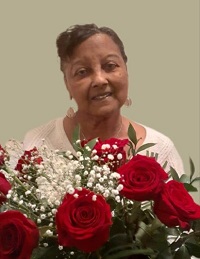 Ruby Lee Widby, 75, of Statesville, N.C., passed away on August 6, 2022, at Iredell Memorial Hospital. She was born February 16, 1947, to Stanley Till Wagner and Goldie Mock Wagner of Johnson County, Tenn.
Ruby was preceded in death by her parents, Stanley and Goldie Wagner; sisters, Ora Lee Brown and Barbara Richmond; and brothers, Clifford Tillie, Stanley Wagner, and Lawrence Tillie.
Those left to cherish her memory are her daughters, Glenda Widby, Tina Widby, and Theresa Widby-Rockett (Zedrick); grandchildren, Keisha N. Santiago, Alecia L. Rockett, Jamal L. Widby and Joseph Overby; great grandchildren, Isaiah Santiago and Aysha Santiago; as well as a host of nieces, nephews, and friends.
Services for Ruby are to be scheduled at a later date.
Bunch-Johnson Funeral Home is proud to be serving the Widby family.