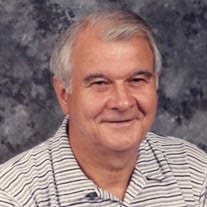 Amedee Louis Norvez, 84, died peacefully in his sleep at his home on Sunday, September 24, 2023. He was born August 21, 1939, in Guerin, Brittany, France. He was the son of Joseph Norvez and Anne Marie LeRoi Norvez.
Amedee graduated from Lycee Guerin in 1956. He served in the French Army for two years in the French-Algerian War (1954-1962). He emigrated to the United States in 1963 to join his brother in New York. When his brother returned to France, Amedee decided to stay in New York and became a United States citizen. He worked in the restaurant business in many capacities for 35 years. In 1965 he married Christiane LeGoff. They were married for 25 years and had four children.
In 1996, Amedee retired to Mooresville, N.C. There he spent the next 27 years with his second wife, Rita Castorina Norvez. Amedee was a loyal member of the Knights of Columbus as a third-degree Knight. He is best remembered as their cook at the Monday night meetings. He would prepare special dishes and was sorely missed when he turned the responsibility over to another Knight. He had experienced poor health for the last ten years.
He was predeceased by his father and mother, his brother, Pierre, his first wife Christiane, his daughters, Nadine and Carine.
Surviving, in addition to his wife, Rita Castorina Norvez, are his son Claude Norvez and his wife Tara Sapia Norvez of Queens, N.Y.; his son Andre Norvez and his wife Anna Woods Norvez of South Orange, N.J.; and eight grandchildren, Aidan, Carine, Chloe, Niamh, Tatum, Declan, Riley, and Maxine.
The family wants to thank the owners of Hearts4Home Caregiving and Recreation Services, Mooresville, N.C., Shelly and Ron Burns, and especially caregivers, Angela, Luquica, Zantrice, Sunshine, and Moon for their loving, expert care for the last 20 months. Also, Hospice nurses, Lindsay and Abigail, for their outstanding professional and tender care for the last year.
A Roman Catholic Mass of Christian Burial will be held on Friday, September 29, 2023, at 11 a.m. at Saint Therese Catholic Church, 217 Brawley School Road, Mooresville, N.C. The family will receive family and friends in the Narthex of the Church immediately following Mass.
In lieu of flowers, memorials can be made to the American Diabetes Association, P.O. Box 7023, Merrifield, VA 22116-7023
Arrangements by Cavin-Cook Funeral Home and Crematory, Mooresville, N.C.