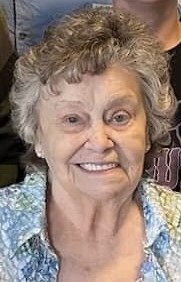 On October 15, 2023, the world lost an angel, Barbara Adkins Lazenby, who is now in God's loving care.
Known for her kindness, thoughtfulness and caring, Barbara made everyone feel special. Her sense of humor and big smile put everyone at ease. She is a shining example of Maya Angelo's famous quote: "People will forget what you said, people will forget what you did, but people will never forget how you made them feel."
Affectionally known as Nanny Barb, she loved her family, especially her grandchildren and great-grandchildren. Her husband Roy was the love of her life.
Those left to cherish her memories are her husband of 67 years, Roy Lazenby Jr.; children, Deb Lazenby (Gene Johnson), Patricia Moore (Tim) and Mike Lazenby (Theresa); grandchildren, Jake Rash (Lauren), Katie Moore, Andrew Lazenby (Ryan), Mary Romeo (Tony), Cody Lazenby, and Ellen Schneider (Dale); great-grandchildren, Fletcher, Alexandra, Jace, Dante and Darrien; sister, Carolyn Myers; and nieces and nephews.
She was preceded in death by her parents, James Fletcher Adkins and Minnie Gunn Adkins; sister, Kathleen Long; and her beloved dog Charlie.
As her health declined, she kept her sense of humor and was always gracious. She famously would tell us "You better go play!" This was her way of saying enjoy life for it is short.
A Celebration of Life will be held at Providence Methodist Church on Saturday, October 21, at 3 p.m. Visitation with the family will be prior to the service beginning at 2 p.m. in the church fellowship hall.
In lieu of flowers, memorials may be made to Providence Methodist Church, 1273 Old Mocksville Road, Statesville, NC 28625.
Troutman Funeral Home is serving the family.