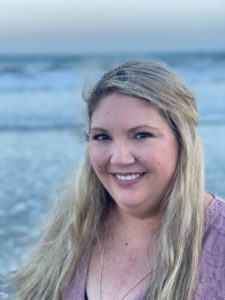 Brittany VanHoy Moore, 36, of Union Grove, N.C., passed away on January 21, 2023, in Winston-Salem, N.C. Brittany was born on August 23, 1986, in Iredell County, N.C., to Clint and Dee Daniels VanHoy.
She was predeceased by her grandparents, Aquilla and Anna Lou VanHoy; and Jim Daniels.
Brittany is survived by her parents; her husband, Aaron Moore; her children, Daniel and Violet Moore; her brother, Travis VanHoy (Amy); her grandmother Sadie Daniels; and many aunts, uncles, nieces, nephews, and cousins.
Her greatest joy in life was her children, Daniel and Violet. She was a very protective and a very dedicated mother. Brittany was a loving daughter, wife, and mother who especially loved vacationing with her family. Her parents were so blessed to have her for 36 years.
Brittany graduated from North Iredell High School in 2004. She then went on to graduate, with honors, from UNC-Greensboro with a degree in Business Administration. She was also a member of Union Grove United Methodist Church, where she coordinated the infant and toddler nurseries.
A visitation will be held on Friday, January 27, 2023, from 12 noon until 2 p.m., at Union Grove UMC. A Celebration of Life will be held at 2 p.m. Burial will follow the Celebration.
In lieu of flowers, donations can be made to the Adult Congenital Heart Association or Union Grove UMC.
Bunch-Johnson Funeral Home is serving the family.