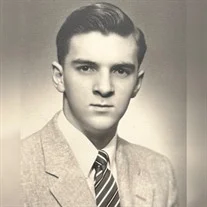 Charles "Chuck" Edwin Mueller of Mooresville, N.C., and formerly of Elizabeth, Colo., peacefully went to be with his Lord and Savior on Monday, October 23, 2023, surrounded by his loving family.
He was born September 4, 1938. Always kindhearted and gentle towards others, Chuck enjoyed time with his family and friends. He loved the Lord and those that knew him saw this in his actions and words. Born in Everett, Wash., he spent his childhood in Milwaukee, Wis., and then returned to Everett for his senior year of high school. He enlisted in the United States Marine Corps as a Radio Telegraph Operator. He considered it a true honor to serve his country. He worked for Mountain Bell for 32 years as a telephone installer. He volunteered on the church security team as well as an AWANAS leader at church. He enjoyed reading, crosswords, collecting knives, going for walks, hot rods, race cars, car shows, running and swimming. His favorite places to visit were the beach and sitting by a stream in the mountains with his loved ones close by.
He was preceded in death by his grandparents, Edwin Funk and Nona Brannick, and Charles Cooney and Henrietta Potter; parents, Patrick Cooney and Fern Funk; stepfather Ken Mueller; his sister Marcia Binder; father-in-law, Clarence Arrington; and mother-in-law, Melba Arrington.
Most important to him was his family and he will forever be remembered as a loving and devoted Husband, Son, Dad, Grandpa, Da, Great Gramps, Brother, Uncle and Friend.
He leaves a lasting legacy of love and faith to be cherished by his survivors, including his wife of 56 years, Charlene; sons, Michael Mueller and wife Lori of Colorado Springs, Colo., and Eric Mueller and wife Stacia of Mooresville, N.C.; grandchildren Matthew Mueller and wife Samantha, Alex Mueller and wife Skylar, Kaylene Mueller Johnson and husband Alex, Chris Mueller, Brayden Mueller and Paetyn Mueller; great grandchildren Anderson Mueller and Wyatt Mueller; sisters Patricia Nebrigich and Michelle Branchaud; and several nieces, nephew, cousins and many dear friends.
A Celebration of life service will be held at 3:30 p.m. on Friday, December 15, at Cavin-Cook Funeral Home Chapel. A reception will follow the service at the funeral home.
The family would like to extend their sincere appreciation to all the hospice nurses, physicians and staff, the pastors, prayer groups and friends for their unwavering compassionate and supportive care that was provided. Your prayers were felt, and the kindness will never be forgotten.
In lieu of flowers, memorial donations can be made in honor of Charles "Chuck" Mueller at Metro World Child, P.O. Box 695, Brooklyn, NY 11237 (https://www.metroworldchild.org/donate).
Cavin-Cook Funeral Home & Crematory, Mooresville, is serving the Mueller family. Condolences and/or a shared memory or story of Chuck that will be shared by the family may be made at www.cavin-cook.com.