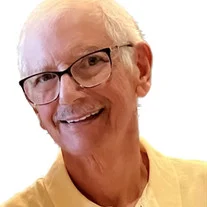 David "Dave" Joel Gombotz, 75, of Mooresville, N.C., passed away on Sunday, August 27, 2023, at the S. Mitchell Mack Hospice House in Mooresville.
He was born on March 24, 1948, in Bethlehem, Pa., to the late Joseph and Mary Kulik Gombotz. He was a 1966 graduate from Liberty High School in Bethlehem, where he was a herald trumpet player in the LHS Grenadier Band. Dave enlisted in the U.S. Navy, where he served as an electronic communication technician during the Vietnam War. He was stationed on the USS Compass Island, based in Brooklyn, N.Y. He worked from 1974 to 1984 for Homer Research Lab at Bethlehem Steel. In 1988, he graduated from Moravian College in Bethlehem with a bachelor's degree in computer science. He worked from 1984 to 2014 for ITR Co. as a development engineer. In his spare time, Dave enjoyed fishing, camping, canoeing, and building memories with his family and friends.
He is survived by his wife of 49 years, Sharon Lengel Gombotz; sons, Stephen Gombotz and wife Sarah Black, Kevin Gombotz and husband Jorge Valdes; sister, Constance Zakszeski and husband Robert; and grandchildren, Gavin, Kailey, Logan, Talon, and Liam.
Funeral services will be held at 2 p.m. on Friday, September 1, at St. Mark's Lutheran Church in Mooresville with Pastor Dave Keck officiating. The family will receive friends following the service at the church.
There will be a Celebration of Life Ceremony in Hellertown, Pa., at Union Cemetery in the fall.
In lieu of flowers, memorials may be made to S. Mitchell Mack Hospice House, 1325 Mecklenburg Hwy., Mooresville, NC 28115.
Cavin-Cook Funeral Home & Crematory, Mooresville, is serving the Gombotz family. Condolences may be made to the family at www.cavin-cook.com.