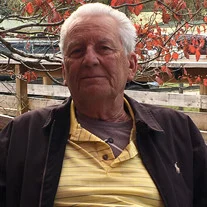 George "Chip" Edward Bure of Mooresville, N.C., died at his home on June 21, 2023. He was 80 years old.
Born in Buffalo, N.Y., on November 1, 1942 to George William Bure and Arletta Rita Jakel, George spent his childhood fishing, hunting, and trying to stay out of trouble to serve as a role model to his five younger siblings. An avid outdoorsman, George blazed his own trails and explored countless mountains, lakes, deserts, and oceans with a disregard for convention. He was a man of many shades, but he was predominantly charismatic, protective, and hilarious. Accompanied by a thunderous voice, one always knew when George was in the room.
He attended St. Joseph's Collegiate Academy before earning his undergraduate degree from Niagara University in 1964. In the years that followed, George had a wonderful and long career in management at various milling companies. His second career, however, was his true passion. For twenty years, camping and RV sales brought him immense joy due to the ability to mix his love for the outdoors and helping others achieve their vacation and retirement dreams.
He was his happiest when he was with his "girls," his loving wife and two youngest daughters, whether camping in mountains all over the country, boating on Lake Norman, N.C., sipping wine in picturesque vineyards, or watching the waves break in Florida beaches.
His whistling capabilities were unmatched, and he could always whistle any song without missing a beat. You could always find George enjoying a sweet – honey buns, muffins, and coffee cake were some of his favorites.
He was preceded in death by his parents, George William Bure and Arletta Rita Jakel, as well as his brothers, Kevin Michael Bure and James Robert Bure.
George is survived by his devoted wife of 38 years, Catherine Martin Bure; daughter, Kristin Arletta Bure; daughter, Kathleen Margaret Bure Aiken and son-in-law Joseph Aiken, daughter, Suzanne Lynn Hall, son John Stephen Bure, three grandchildren, Bridget, Victoria, and James Hall, and soon-to-be grandchild, baby Aiken. He is also survived by his sister, Cheryl Ann Bell, sister Karen Marie Reling, and brother Todd Joseph Bure.
George leaves behind a legacy of laughter and kindness, and his impish sense of humor will be missed by many.
The family will receive friends on July 29 from 2 to 6 p.m. at Heritage House in Mooresville, N.C.
Cavin-Cokk Funeral Home is serving the family.