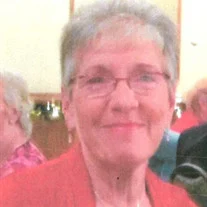 Lorraine Mary Walsh of Scott Township, Pa., passed away peacefully on Sunday, March 12, 2023, at her daughter's home in Mooresville, N.C. Lorraine was born on October 27, 1948, to the late Catherine O'Donnell Perrone and Eugene Vincent Perrone, of Pittsburgh, Pa.
In 1968, Lorraine married Paul R. Walsh in Pittsburgh, Pa. They had three children together. Lorraine was preceded in death by her loving husband, Paul R. Walsh, in 2014.
She is survived by her daughter, Heather DeVries and spouse Dr. Sam DeVries; sons, Paul J. Walsh and Brian M. Walsh; grandchildren, Tylor DeVries, Connor McGregor, Taylor Walsh, Shayleigh Walsh and Sean Walsh; great granddaughter, Aurora Ruhr DeVries; brother, Eugene Perrone; sisters, Tanya Cahill and Kathleen Beatty; cousins, Maryann Shinshasky and Rina Machi; and former sister-in-law, Tina McDermott Walsh.
Lorraine loved spending time with her friends and family, cheering for her grandchildren at their events and was always on the go. She always had a bottomless cup of coffee and a never-ending stash of candy. Lorraine was feisty, tenacious, loved and is dearly missed.
The family will be holding a celebration of Lorraine's life on April 1 from 1 to 5 p.m. at Charters Terrace Party Room (next to the office), 1 Victory Drive, Carnegie, PA 15106. Any questions, please call or text 412-498-5333.
Cavin-Cook Funeral Home & Crematory, Mooresville, NC, is serving the family of Mrs. Walsh. Condolences may be made to the family at www.cavin-cook.com.