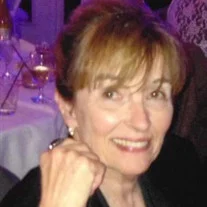 Janice Kay Tyler Blanchard, 82, of Mooresville, N.C., and formally of Decorah, Iowa, died January 18, 2023, at her daughter's home surrounded by family after a brief battle with cancer.
Funeral services will be held on Monday, January 23, at 11 a.m. at Trinity Baptist Church, Mooresville, N.C., with Pastor Mark Harris officiating. Visitation will begin at 10 a.m., one hour prior to the service. Services can be viewed live online at trinitybaptist.com. (Please click on the "watch link.) The burial will be held in Nashua, Iowa, at Oak Hill Cemetery at a later date.
Jan was born February 27, 1940, in Camanche, Iowa. She is the daughter of the late William and Inez (Farr) Tyler. She attended country schools and was a 1958 graduate of Clinton High School. After graduation, she married David Sadler. On July 6, 1991, she married Raymond Blanchard. They built their dream home on 150 acres overlooking a trout stream in Decorah, Iowa. Jan loved to hunt deer and turkeys. Given a choice, she would choose to be trout fishing the beautiful Iowa streams, on a lake fishing bass or on the ice, fishing blue gills, over anywhere else. She also enjoyed birdwatching, morel hunting, teaching floral arranging and design, and tending her beautiful gardens. Jan was nationally acclaimed as a Master National Flower Show Judge and a Master African Violet Society Judge. She enjoyed her memberships in numerous garden clubs. She had over 500 African Violets, which she shared with friends. Visitors were often treated to tours of her home in Decorah to view her gardens and her many varieties of Iris.
She was preceded in death by her husband, Ray Blanchard; her sister, Judy; her mother and father; and David Sadler.
Jan is survived by her daughter, Angela Robison (Barry) of Kankakee, Ill., her daughter, Laura Ramsey (Phil) of Mooresville, N.C.; her son, David Sadler of Connecticut; her grandchildren, Brandon Ramsey, Andrew Bousky, Janna Lay, Michael Bousky, and Patrick Bousky. She has seven great-grandchildren, Jacob, Grace, and Jack Bousky and Logan, Dylan, Eleanor, and Haylie Lay; and her sister, Patricia VanLeeuwen; as well as many nieces and nephews.
In lieu of flowers, the family asks that donations be made to Hospice and Palliative Care of Iredell County, 2347 Simonton Road, Statesville, NC 28625, or Trinity Baptist Church, 221 Ervin Road, Mooresville, NC 28117.
Cavin Funeral Home and Crematory, Mooresville, is serving the Blanchard family. Condolences may be sent to the family at www.cavin-cook.com.