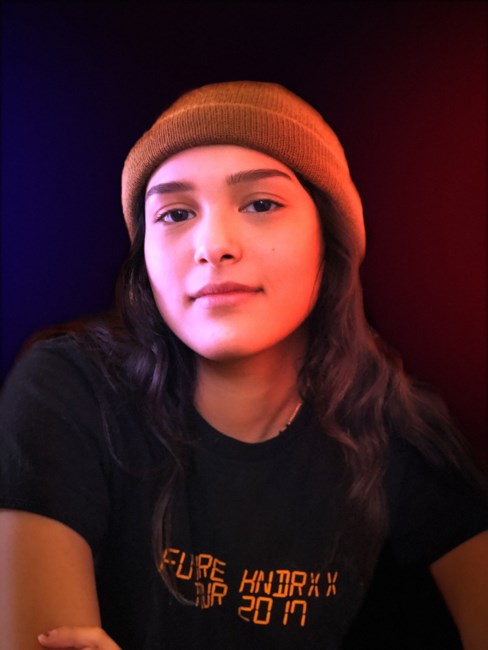 Jennifer Castillo Moore, 21, passed away on January 14, 2023, in Wilmington, N.C. She was born on June 26, 2001, in Concord, N.C., to Hugo Paz and Cynthia Moore.
She was predeceased by her maternal grandmother, Barbara Moore; her paternal grandparents, Juana Paz and Dario Castillo; and her uncles, Terry Moore and Dario Paz.
Jennifer is survived by her parents; sisters, Jessica and Breanna Paz; niece, Ava Castillo-Lackey; aunts, Peggy Locklear (Brian), Mary Moore, and Sara Paz; uncles, Alex Paz and Martin Paz (Blanca); and cousins, Kassandra and Roxana Moreno, Karina Solis, Daio Paz, Stephanie, Maria, Dario, and Mario Castillo, and Terry, Brittany, Craven, and E.J. Locklear; and many more cousins, extended family and friends.
Jennifer graduated from Crossroads Arts & Science Early College in Statesville, N.C., and was currently attending UNC-Wilmington. She enjoyed skateboarding, hiking, and watching sunsets. She especially enjoyed spending time with her family and friends and loved to help others.
A visitation will be held at Bunch-Johnson Funeral Home in Statesville on Friday, January 20, 2023, from 1 to 4 p.m. A funeral service will be held following the visitation at 4 p.m. at Bunch-Johnson Funeral Home.
The family requests no pictures to be taken during the visitation or funeral.
Fond memories and expressions of sympathy may be shared at www.bunchjohnsonfuneralhome.com for the Moore family.
Bunch-Johnson Funeral Home is serving the family.