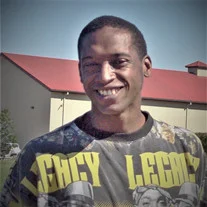 Jerron Jevar Grimball, 46, of Mooresville, N.C., passed away on August 19, 2023, at Novant Medical Center in Huntersville, N.C.
He was born December 29, 1976, in Bronx, N.Y., to Frank and Laura Bullock Grimball.
Jerron enjoyed fishing, gaming, watching old movies, martial arts, and amateur boxing. His greatest joy was being with family and friends.
In addition to his parents, Frank and Laura Grimball, Jerron is survived by his children, Sean and Vanity Grimball; brother, Jason Grimball; nephews, Xavier, Jordan, and Andrew Grimball.
A Celebration of Jerron's life will be held on Sunday, August 27, at 1 p.m. in the Chapel of Cavin-Cook Funeral Home with Deacon Frank Grimball and Deacon Albert Grimball officiating.
Cavin-Cook Funeral Home and Crematory, Mooresville, is serving the Grimball family. Condolences may be sent to the family at www.cavin-cook.com.