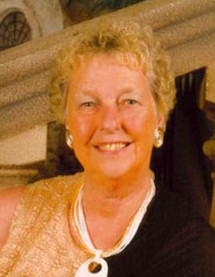 Julia Anne Morrison Netterwald, 86 of Statesville, N.C., passed away Monday, January 23, 2023, at her home.
Julia was born May 5, 1936, the daughter of William Edwin Morrison and Blanche Ellis Morrison, both of whom preceded her in death. An infant sister died at birth in 1938, and her brother, William Edwin Morrison, died in 2017.
Julia attended Iredell County Schools and was a graduate of Statesville Senior High School, Class of 1954, Mitchell Junior College, Class of 1956, Weaver Airline Personnel School, in Kansas City, Missouri, and Statesville Cosmetology School.
Survivors are her children, Lisa Ellis Netterwald, William Keith Netterwald, Rick Netterwald and Craig Netterwald, all of Statesville; along with many cousins. Also surviving are longtime friends, John and Glenda Hedrick William, Tia and Chuck Windle, Debbie and Brad Rutledge and children, Shannon and her children, and Anna, the class members of 1954 Statesville Senior High School, and many other special friends.
Julia was instrumental in organizing reunions for the SHS class of 1954. In 1974, she took it upon herself to locate and keep in touch with her classmates. The class gathered for reunions in 1974, 1979, 1994 and 1999. She and classmate Walter Patterson started class breakfasts the year prior to their 50th reunion. The 50th Reunion event was held at the Vance Hotel in 2004 (the last event to be held there) and the class photo was taken across the street in front of City Hall.
Julia's faith of choice was the Associate Reformed Presbyterian, where she learned under the leadership of the Reverend Robert J. Marshburn and John and Nancy Kimmons that "the Bible was the only infallible rule of faith and practice." She was a member of First ARP Church in Statesville until she moved her membership to Covenant ARP Church in 1981. While at Covenant, she was given a Life Membership in the Women of the Church. She taught young people and worked extensively in the church. Julia was a deep believer in the Grace given by God.
She loved travelling and realized some of her lifelong travel dreams after retiring. She preferred to travel by car and was proud to have driven to Alaska, Nova Scotia, across the United States (which she did three times with friends) and across Canada. She loved seeing the U.S. and often said "of all the places she had been and things she had seen, the most amazing was Mt. Rushmore," and the next was the sense of awesome and power when approaching Niagara Falls by boat. Also, one of her favorite travel memories were all the buffalo roaming in Yellowstone. Julia loved just getting in her car and riding … really didn't matter the destination.
Julia enjoyed family history and had a large database of the Morrison and Bradley family genealogy, dating back to the arrival of the families in America in 1735 and to North Carolina as pioneers in 1751. The Morrison family helped establish Statesville, the Fourth Creek Meeting House, New Sterling APR Church, and the First ARP Church. The Ellis family came to Alexander County in 1813 via Pastor Ellis, a Methodist lay minister (a circuit riding pastor) from Forsyth County. In Forsyth County, Pastor Ellis was instrumental in founding the church in Tanglewood Park. He also established Mount Pleasant Methodist Church, which later became Stony Point Methodist Church. Julia penned many entries for the book "Iredell County Heritage," Vol. 1, on her family lineage and those of friends. She was very proud of her heritage and to be an American.
She was a very supportive mother who loved the fact that her children were independent, able to work and support themselves. She was known for being generous and helpful – but always wanted her children to be independent.
She was a giving person and choose as a final gift, to donate her body to Bowman Gray School of Medicine at Wake Forest University for medical research. This was a special tradition started by her parents.
Celebration of Life services will be announced by Troutman Funeral Home.