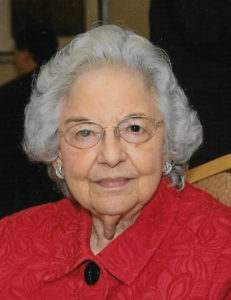 Koula Dross Litchos, 91, of Statesville, N.C., passed away on January 14, 2023, at her home.
Mrs. Litchos was born December 31, 1930, in Charlotte, N.C., and was the daughter of the late Nicholas John Dross and Demetra Kostakes Dross. She was a graduate of Central High School in Charlotte and attended The Woman's College in Greensboro (now UNC-Greensboro). In 1954, Koula married the love of her life, James Paul Litchos from Saco, Maine. They shared more than 56 years before his death in 2009.
Koula served for 32 years at the N.C. Employment Security Commission as interviewer, instructor and assistant manager until her retirement in 1990. The Commission recognized her achievements on many occasions. Koula was an active member of the Statesville Altrusa Club and the Statesville Business and Professional Women's Club, organizations where she held various offices and chaired many committees. She was also a member of St. Luke Greek Orthodox Church in Mooresville.
In addition to her husband and parents, Koula was preceded in death by her brother, John Dross; and her brother-in-law, Nicholas Matalas.
Survivors include her sister, Stella Dross Matalas; nieces, Mary and Denise Matalas, all of Alexandria, Va,; sister-in-law, Frances Dross of Davidson, N.C.; nephews, Nick Dross of Carolina Beach, N.C., and Mike Dross of Charleston, S.C.; and nieces, Norma Manning and Julie Boutet of Boston, Mass., and North Palm Beach, Fla.
Rev. Robert Lawrence and Rev. Gregory Waynick will conduct a graveside service for Mrs. Litchos at Evergreen Cemetery in Charlotte on Wednesday, January 18, at 11 a.m.
Troutman Funeral Home is serving the family.