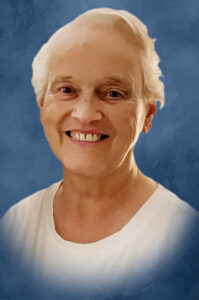 Lena Sue Collie Wall, 75, of Statesville, N.C., peacefully passed away on Monday, October 23, 2023, at Catawba Valley Medical Center surrounded by loved ones.
Lena is survived by her wonderful and loving husband, Donald Wall, her devoted partner in life for 53 years and their three children, Melody Anne Edmonds (Timothy), Christy Leigh Sigmon (Shannon), and Benjamin Scott Wall (Leah). Lena has nine grandchildren, Julianne Edmonds, Hannah Edmonds, Caleb Sigmon, Micah Sigmon, Jared Edmonds, Noah Sigmon, Elisha Wall, Genevieve Wall, and Cassian Wall.
Very proud of her Collie heritage, Lena was one of eight children, the daughter of the late George Thomas Collie Jr. and Hazel Pollard Perkins Collie. Born in Danville, Va., Lena retired with 25 years of service with Iredell-Statesville Schools and decades of service to her church by serving in youth ministry, as a Sunday School leader, and singing in the church choir. Lena devoted herself to helping others with a selfless compassion for people.
Lena's surviving brothers are George T. Collie III and wife Brenda; and Mike Collie and wife Vikki.
Five very dear sisters preceded her in death, Laura Collie Laws (Dillard), Georgie C. Simpson (Aubrey), Mildred C. Bray (Wayne), Jennie Collie Scott (Al), and Violet Collie Gelines.
A big thank you to Dr. Jung Li with Wake Forest Hematology and Oncology in Statesville, N.C., for her loving care and friendship.
Family visitation will be at Oakdale Baptist Church in Statesville, N.C., between the hours of 2 and 3 p.m. on October 29, 2023. Lena was a long-time member of Oakdale Baptist Church. Her celebration of life will take place at 3 p.m. at Oakdale Baptist Church on 585 Mocksville Highway, Statesville, NC 28625. Her body will be interred in Oakwood Cemetery following the service. The family will receive guests at the home of Donald Wall in Statesville.
The family of Donald and Lena Wall thank you most kindly for your condolences, prayers, text messages and phone calls. Memorials can sent to Oakdale Baptist Church. Condolences may be sent to the family at www.troutmanfuneralhome.com.
Troutman Funeral Home is serving the family.