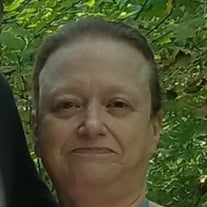 Luann Ash Boysel, 60, of Mooresville, N.C., passed away on Friday, June 30, 2023. She was born on July 18, 1962, in Laurence County, Ark., to the late Paul and Marlene Sheman Ash.
Luann was a member of Enon UMC in Enon, Ohio. She enjoyed cross stitch, knitting, and crocheting. She loved her family, especially spending time with her grandson, whom she adored.
She is survived by her loving husband, Donald Boysel; son, Sean Michael Boysel (April); aunt, Carol Progansky; brother, Paul Walter Ash (Leslie); grandson, Dallas Boysel; and canine companions, Nash and Littleman.
In lieu of flowers, memorials may be made to Enon UMC, 135 S Harrison Street, Enon, OH 45323.
Cavin-Cook Funeral Home, Mooresville is proudly serving the Boysel family.