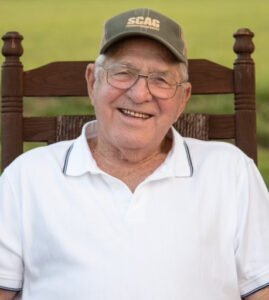 Manley "Dub" Wilson Bass Jr., 87, of Statesville, N.C., passed away Sunday, September 24, 2023, at the Gordon Hospice House of Statesville. Dub was born May 18, 1936, in Iredell County to the late Manley Wilson Bass Sr. and Oma Lee Waugh Bass. Along with his parents, he was proceeded in death by five sisters and brothers in law, Marcelle and Hunter Stevenson, Audrey and Brice Pope, Edith and Jack Whitlock, Nellie and Johnny Haithcox, Johnsie and Clay Watt.
Those left to cherish Dub's memory are his loving wife of 64 years, Carolyn Ingram Bass; two sons, Scott Bass (Lisa Starrette), and Derrick Bass (Tori Miller); and five grandchildren, Laura Cashion (Brian), Sean, Montana, Colt, and Gage Bass.
Dub graduated from Statesville Senior High with the Class of 1954 and soon thereafter joined the U.S. Army Military Police Unit, where he served his country proudly. Upon discharge from the Army, he worked with E.B. Stafford Engineering as a surveyor before joining the City of Statesville, where he retired as the Assistant Public Works Director after 31 years of service with the city. He then worked 15 years at Lakewood Golf Course with his longtime friends J.P. Wooten and Buck Lefever. Dub also served 31 years on the board of the West Iredell Water Corporation.
Dub loved his farming, horses and mules, and he made many special friends through the years working horse shows and trail riding. He loved his neighbors and spent many hours mowing the yards on Black Road with what became known as the Black Road Mowers Association. Dub was an active and long-term member of Bethlehem United Methodist Church.
In lieu of flowers, the family request memorials be directed to Bethlehem Methodist Church or the Gordon Hospice House of Statesville.
The family also expresses special thanks and their love to Wanda Potts, Angie Moser and Deanna Howard for all the special help and support during his decline in health. The family also offers thanks to the staff of Iredell Memorial's Skilled Nursing Department, Autumn Care of Statesville, and the Gordon Hospice House of Statesville.
Dub's celebration of life will be held at Bethlehem Methodist Church on September 27 at 2 p.m.
Troutman Funeral Home is serving the family.