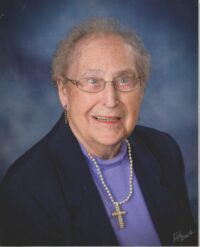 Marjorie Ann Harrington Winslow, 91, of Statesville, N.C., passed away on Wednesday, October 11, 2023, at her home.
Mrs. Winslow was born in Bennington, Vt., on May 21, 1932. She was the daughter of the late Robert Harrington and Alice Frost Harrington. Marjorie graduated from Bennington High School and was a member at Command Baptist Church. She volunteered at Davis Community Hospital and served as a church organist at Command Baptist Church. She also sung in the choir and worked as a church secretary at First Baptist Church in Bennington, where she attended for many years. She enjoyed travelling, doing word puzzles, knitting, crocheting, camping, and spending time with her family.
In addition to her parents, Marjorie was preceded in death by her first husband, Paul Jones; second husband, Richard Winslow; her brothers, Bob, Ed, and Fred Harrington; her sisters, Iva Harrington and Linda Remington; and grandchildren, Jessica Fischer and CJ Cooper.
Those left to cherish her memories include her son, Neal Jones (Becky); her daughter, Sandie Fischer (James); and her grandchildren, Paul Jones, Becky Romero, Jennifer Brazee (Kevin), Eric Fischer (Ariel), and Kyle Fischer. She is further survived by several great grandchildren; her brother, Bill Harrington (Cheryl); and several nieces and nephews.
Funeral services will be held Friday, October 20, 2023, at 1 p.m. at Command Baptist Church with Pastor Scott Whitman officiating. Family will visit with friends an hour prior to the service, from12 to 1 p.m. A burial will follow the service in the church cemetery.
Memorials made be made to Hospice Palliative Care of Iredell County.
Troutman Funeral Home is serving the family.