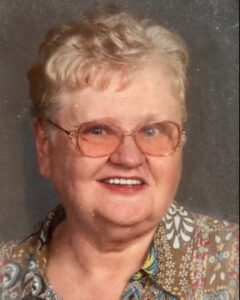 Nancy Louise Bourgeois Lepiarz, 82, of Statesville, N.C., and formerly of Hamburg, Mich., passed away at home on Thursday, October 5, 2023, surrounded by her daughters. She was born in Detroit, Mich., on February 16, 1941, the daughter of the late Milford and Frances Bodner Bourgeois. She graduated from Immaculata High School, Detroit, Mich. She married the love of her life, Robert J. Lepiarz, in 1962.
Her priority early in life was her family. She was a member of the PTA, an active scout leader, a statistician, and head cheerleader. Later she worked for the State of Michigan Department of Treasury Income Tax until retirement. She was a proud graduate of Concordia University, earning a bachelor's degree in business management.
She was predeceased by her husband, Robert J. Lepiarz (1997); and their son, Michael Lepiarz (2012).
She is survived by her sister, Karen Bourgeois Racine; and brother Edmund "Ed" Bourgeois and his wife Sandra; her daughter and son-in-law, Susan and Rob (Musko); her daughter and son-in-law, Ann-Marie and Spence (Robbins); and her daughter, Patricia Lepiarz. Also surviving are four dear grandchildren that she cherished, along with her nieces and nephews and their children.
She was a member of St. Philip the Apostle Church of Statesville, N.C. She had a very strong Roman Catholic faith and enjoyed her time with the Bible Study Group. She shared her many gifts with the Lord and her community. She loved to cross-stitch and was an avid reader. She was filled with compassion and gave generously. She was kind, loving and gentle to everyone whose life she touched.
A special thank you to the men and women of the Ebenezer Volunteer Fire Department for their speed to respond and their kind assistance to Nancy and her family during this past year's battle with cancer. The family is eternally grateful for the assistance and care provided by Nancy's neighbors, Doris and Luis.
In lieu of flowers, memorial contributions may be made to: Hospice & Palliative Care of Iredell County, 2347 Simonton Road, Statesville, NC 28625 (https://www.hoic.org). or to Ebenezer Volunteer Fire Department; 1002 Turnersburg Highway, Statesville, NC 28625.
Arrangements for a memorial service are incomplete at this time. She will be laid to rest next month at St. Hedwig Cemetery and Mausoleum in Dearborn Heights, Mich.
Nicholson Funeral Home has the honor of serving the family.