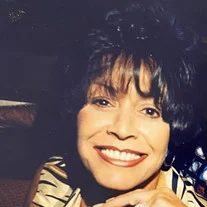 Sharon "Lea" Dwyer passed away on October 8, 2023. She was the all-encompassing epitome of the most beautiful, classy, elegant mother, grandmother, sister, friend, gardening extraordinaire and Paris fanatic."
Lea was given the gift of life on June 12, 1949, in Charlotte, N.C., to Gloria Mattox Potter and Harris Emerson Potter.
She was preceded in death by her mother and father.
Lea leaves behind her daughters, Lori West (Lane) and Dodie George (John), to honor her legacy for many years to come.
Her grandchildren, James George (Emily) and April George, will forever remember her for the love she bestowed upon them at every opportunity, the hilarious stories she came up with of her changing the light bulbs in the Eiffel Tower and riding her elephant to work in Africa when she opened up the first McDonald's there. Her sense of adventure and imagination always brought much laughter to our home. Her grandchildren brought so much joy to her. She loved hearing all the stories of their day-to-day lives.
Lea leaves behind her sister, Dianne "Potter" Crutchfield, with whom she shared many wonderful beach trips with and whom she spoke with daily. Dianne was a lifeline to Lea, a best friend and a wonderful sister.
Lea leaves behind her brother, Gary Potter (Elaine), and a host of nieces and nephews. She shared a very special bond with her brother throughout her life.
She started her career at Duke Power for many years working with her dear friend Brenda Sistare. She later started her own business, "The Duchess Nail Boutique," in Mooresville, N.C.
Lea lived a full, exciting, humorous, fun-loving, traveling life. She loved to work outside in her garden and always had the prettiest variety of flowers. She enjoyed listening to music and she loved to dance. Beach music and "shagging" were her favorites. She also loved Paris and had dreams of going to Paris someday. If you ever went inside her home, you would see how much she loved it. There were Eiffel Towers everywhere!
She was taken away from us much too early; however, it was on just the exact day God had planned for her. She will always be missed, but her memories will remain forever in our hearts.
A Celebration of Life for Sharon Lea Dwyer will be held at 2 p.m. on Saturday, October 21, in the chapel of Cavin-Cook Funeral Home in Mooresville. Visitation will follow the service.
Memorials may be made to St. Jude Children's Research Hospital, 501 St. Jude Place, Memphis, TN 38105 or www.strudel.org/donate.
Cavin-Cook Funeral Home is proudly serving the Dwyer family.