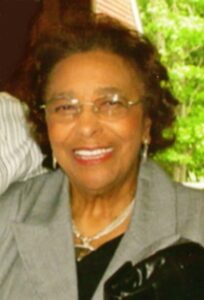 Mrs. Wilma Sue Poole Stevenson, 92, of Statesville, N.C., passed away peacefully on Tuesday, October 10, 2023. Mrs. Stevenson was born on March 8, 1931 in Alexander County, and was the daughter of the late Harrison Poole and Irene Watts Poole.
Educated in the Alexander County Schools, she was a member of Redland Church of Christ in Advance. Professionally, Mrs. Stevenson worked for Dixie Seating Company. She loved being with people, cooking, making cakes, and dressing up. She particularly loved to be with her family, where she took much pride in cooking home-cooked meals for them.
In addition to her parents, she was preceded by her husband of 51 years, Magellan Stevenson Sr.; her daughter, Cynthia Stevenson; granddaughter, Joyce Bennett; brothers, Romey Poole, Odell Poole, Clyde Poole, and Paul Poole; sisters, Beatrice Allison and Essie Mae Bennett; and her in-laws, Stanley and Glenna McMullen, James "Gus" and Geneva Stevenson, Gladys Stevenson, and Charles Stevenson.
Those left with cherished memories are her sons, Magellan Stevenson Jr. (Cindy), and John B. Poole (Ray-Nell); and daughters, Prudence Houpe and Daphne Stevenson (James Daye). Also surviving are her grandchildren, Chasidy Heath (Caderis), Bristol Stevenson, Stephen Leach (Danielle), Randy Leach (Caroline), Magellan Stevenson III (Miranda), John Clark (Rejohnica) and Marvin Clark (Alisha); as well as great grandchild, Nicholas Stevenson (Elizabeth), and numerous others. She is also survived by her sisters Lona Belle Lackey, Madie Jones (Joe), and Betty Poole; brothers, George Stevenson, and Nathaniel Stevenson (Thelma); and her special friend Daniel Moore.
Visitation will be on Tuesday, October 17, 2023, from 12:15 to 1 p.m., at Highland Acres Church of Christ. The funeral will begin at 1 p.m. with Pastor Larry Glenn officiating. Burial will follow at Iredell Memorial Gardens.
Fond memories and expressions of sympathy may be shared at www.bunchjohnsonfuneralhome.com for the Stevenson family.
Bunch-Johnson Funeral Home is serving the family.