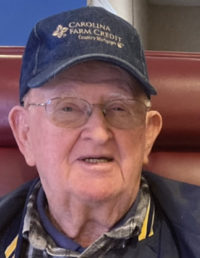 William Harold Jenkins, 83, went to be with the Lord at his home in Olin, N.C., on Saturday, March 11, 2023.
Mr. Jenkins was born in Iredell County, N.C., on September 29, 1939, son of the late William Charlie Jenkins and Margaret Feimster Jenkins. Harold was married to the love of his life, Kathryn Ayers, Jenkins for 65 years. He retired from Iredell-Statesville School System as a teacher after 27 years. From 1972-1999, he was an auto mechanics teacher at South Iredell High School and Statesville High School. In addition to devoting his life to his family, Harold took pride in serving his community for several years by volunteering with Harmony Fire Department and proudly serving as their chief. He was an active member of Olin Church and loved his church family very much. He enjoyed restoring old tractors, baking his famous pound cakes, and going to auctions with his numerous friends. Harold was a selfless and generous man, a devoted father who ensured that his daughters learned his many talents and were well-taken care of. His knowledge and love were passed down to many generations, of his grandchildren and great grandchildren, who will forever be grateful for his impact on their lives.
Along with his parents, he was preceded in death by his sisters, Shirley Harmon and Sue Barker.
Survivors include his wife Kathryn; his five loving daughters, Becky Galliher (Larry), Lori Howard (Dan), Sandra Oliver (Richard), Cindy White and Carolyn Jenkins (Shannon); nine grandchildren; and nine great grandchildren.
The family appreciates all the kind words and prayers during our time of grieving. We would like to say a special thank you to Whitney Moose, Emily Harris and Christy Georgeson for their care of Harold and our family. We know that you made him feel at ease as he transitioned to be with our Lord and Savior. Many thanks also to the Hospice of Iredell County.
A funeral service celebrating the life of Harold Jenkins, will be conducted at 2 p.m. Thursday, March 16, 2023, at Olin Church, 653 Olin Loop Road, Olin, NC 28660. Pastor Steve Wagner will officiate. Burial will follow the service at the Olin Cemetery and the family will greet friends afterwards. Charlie Galliher, Jerrod Howard, Tyler Howard, Ben Oliver, Seth White and Jake Jenkins-Cowart, Harold's grandsons, will serve as pallbearers.
In lieu of flowers those wishing to make memorials are asked to consider Olin Church, P.O. Box 32, Olin, NC 28660 or Hospice and Palliative Care of Iredell County, 2341 Simonton Road, Statesville, NC 28625.
Troutman Funeral Home is serving the family.