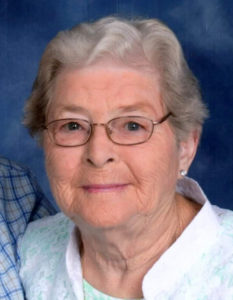 Wilma Lee Holcomb, 91, of Statesville, N.C., passed away Friday, June 23, 2023.
Mrs. Holcomb was born in Surry County, N.C., on August 18, 1931. She was the daughter of the late William McKinley Fulk and Jettie Reynolds Fulk. She worked for Burlington Industries for 39 years as a knitting machine operator. She was a member of Fairview Baptist Church. She loved and was very proud of her family. She loved her husband, their friends, church family and traveling. In 1955 Wilma married her beloved husband, Elmer Holcomb. Together they shared more than 68 years of marriage.
Along with her parents, Mrs. Holcomb was preceded in death by her husband, Elmer Holcomb; her son, Dean Holcomb; her great grandson, Ethan Holcomb; her brothers, Melvin and Bill; and her sisters, Jean, Ann, and Francis.
Those left to cherish the life and memory of Wilma Holcomb include her son, Mike (Rebecca) Holcomb; her daughter-in-law, Karen Holcomb; her grandsons, Jason (Melissa) Holcomb, Lee (Der) Holcomb, Mitch (Erin) Stinson and Matt (Melissa) Stinson; her great grandchildren, Hallie, Justin, Sydney, Charlotte, and Miranda; and her brother, Clayton Fulk.
The family will greet friends on Friday, June 30, 2023, at Fairview Baptist Church, beginning at 1:30 p.m. The funeral service will be conducted at the church at 3 p.m. with the Rev. Scott Eanes and Rev. Paul Hill officiating.
Troutman Funeral Home is serving the family.