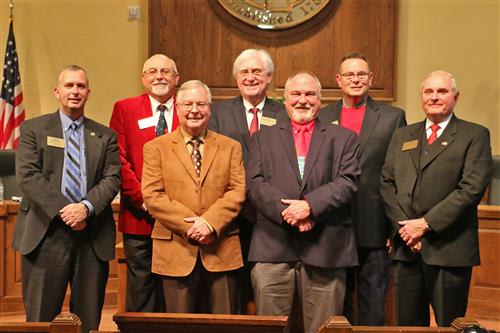 BY MIKE FUHRMAN
When it reconvenes on Monday evening, the Iredell-Statesville Board of Education will likely delay or deny a request by district administrators to help fund expansion of the International Baccalaureate program at Statesville High School.
No one who has been following this board for any amount of time — especially since partisan school board elections became a thing — will be surprised.
But all I-SS parents and grandparents — even those who do not have students at Statesville High — should be deeply disturbed when this happens.
It's going to be difficult to lead a school district with 20,000 students and 2,000 employees when you have zero credibility because you can't be trusted to do what you say you're going to do.
In their most recent meeting, several I-SS board members questioned the expense, the timing and even the value of the IB program, which the district has successfully implemented in elementary and middle schools in the north and south ends of the county — as well as at South Iredell High School.
Board members Todd Carver and Sam Kennington, whose district includes Statesville High and who is a former principal at the school, have expressed support for expanding the IB program to Statesville High.
The other board members' attitudes toward the request can best be characterized as generally negative — with the biggest naysayer being Ken Poindexter, who appears to support little more than offering students a "basic" education. (As an aside, we should all expect much more from our public school system — and from anyone who sits on our school board. The future of our community depends on preparing today's students for the jobs of the future. "Basic" is not going to cut it — and it does not meet the requirements of the North Carolina State Constitution or relevant case law.)
The school board did not throw up similar roadblocks during the implementation of the IB program at other schools. In fact, if it does not provide the necessary funding to expand the IB program to Statesville High, the board will be going back on the district's commitment to the Statesville community to do just that. That promise was made by the board when the decision to implement the program at South Iredell High was made.
For Kennington, that alone is reason enough to support spending the necessary money. "I've lived 73 years as my word is my bond — and I mean that," he told me.
If this board goes back on its promise to the Statesville community, what makes you think it won't do the same thing later to the West Iredell community, where the middle school needs major renovations? Of course, veteran I-SS teachers won't be surprised if the board withholds funding for the IB program at Statesville High. They are still waiting for the school board and county commissioners to restore the cuts they made to the local pay supplement a decade or more ago.
If the board denies or delays funding, why would Statesville Principal Sheila Jenkins ever trust this board to live up to its word in the future? With the full support of the superintendent and the endorsement of this board, she was transferred to Statesville High about 11 months ago to take charge of a foundering ship. Jenkins, who was principal at Northview Middle IB at the time, was a logical choice because of her experience with the IB program.
Also, it's going to be extremely difficult to recruit highly qualified candidates to replace Superintendent Brady Johnson and Deputy Superintendent Melanie Taylor — if indeed that's what this board wants to do — if the applicants don't believe that this board can be trusted or that board members are intent on selectively micromanaging school-level administrators.
Why IB?
As you would hope and expect, Jenkins believes the International Baccalaureate program can be transformational for Statesville High, which has consistently earned poor marks in the N.C. Report Card in recent years, and for students who are exposed to this philosophy of teaching and learning.
"With IB, you teach differently, learn differently and experience education differently," Jenkins explained. "You're not stuck in box."
For whatever reason, traditional teaching philosophies have not worked and are not working for all students at Statesville High. The IB model challenges students to be open-minded, caring, reflective, principled and inquiring, among other things. IB students learn to think critically and are often more prepared for college-level work than other students.
Jenkins summarizes the difference between IB teaching and more traditional teaching: While traditional teaching models ask students what the answer to two plus two is, IB teaching asks students to prove the answer is four — and do it in three different ways.
She is confident that Statesville High students can handle this change. "Our kids like to challenge things, to be given the opportunity to prove they know it," she said.
And perceptions that IB is designed solely for high-flying, academically gifted students are incorrect, Jenkins said.
"IB is meant to be inclusive, not exclusive," she said.
Because IB is more a way of teaching and learning than it is a curriculum, students of all abilities can excel if given the opportunity, she added.
For example, while enrollment at Northview IB is competitive, Jenkins said a group of eight students who had lower academic achievement than their peers when they enrolled in the program thrived when given the opportunity.
Meanwhile, in Chicago, implementation of the IB program is credited with helping turn Senn High School, which ranked in the bottom third of the city schools and was plagued by discipline problems, into a top-tier school in three years.
"IB helped turn it around because it helps teachers be more focused, more purposeful in teaching," Jenkins said.
The Cost Argument
Arguments citing the cost of implementing IB at Statesville High are an easy excuse meant to pacify conservatives who have the ear of some board members. The impact of implementing this program at Statesville High School on the district's $200 million-plus budget would be minimal. State Restart funding can be used in the early stages for some expenses and the district already has funds budgeted for IB training across the district.
In the current budget cycle, the expenses would be largely limited to hiring a coordinator in January and paying application and administrative fees.
Put simply, voting against this on the grounds that it is too expensive is akin to deciding not to buy a $100,000 house because a $10 light fixture in the guest bathroom cost too much money.
Going Forward
It's clear that what has been tried for the past decade has not worked at Statesville High School. According to the latest N.C. Report Card, Statesville is a "D" school. Measurements of student achievement in key area show Statesville students more than 20 percentage points behind the school district average and the state average. That's why I-SS was given extra Restart money by the state to direct extra resources to the school, along with three other low-performing schools in the district.
The superintendent and principal believe the IB program can help turn the tide. Meanwhile, if I-SS board members have alternative ideas for helping Statesville High students achieve at higher levels, they certainly have not shared them with Jenkins or with the public.
Giving current and future Greyhounds the same opportunities that students at South Iredell High have is the fair and proper thing to do. The majority of Statesville High students come from socio-economically disadvantaged backgrounds, but that does not mean that they should not have the same educational opportunities as their peers at other schools. They should not have to be bussed out of their neighborhoods — out of Statesville — to pursue an educational opportunity as unique and potentially life-changing as the IB program.
"These kids deserve an opportunity," Jenkins said. "I cannot think of any reason why they (the board) would not want to support a tried-and-true, research-driven program."
This novel idea of equal opportunity for all students is spelled out in plain English in the school board's Mission Statement:
The Iredell-Statesville Schools Board of Education will provide leadership for a system of schools that enables all students to achieve their academic potential and lead productive and rewarding lives. The board of education will achieve this mission through effective policy and decision-making utilizing the fundamentals of continuous improvement.
This mission statement must not be set aside when it is convenient or politically advantageous for the school board to do so.
In order to meet its mission and preserve its own credibility, the I-SS board must approve funding for the IB program at Statesville High. If this board denies or delays funding during Monday's meeting, it will have failed in its obligation and commitment to our community, to this school, to its teachers and administration and, most importantly, to its students.
Mike Fuhrman is editor of Iredell Free News. He is the proud dad of a Statesville High School grad and a current Greyhound. Email him at iredellfreenews@gmail.com