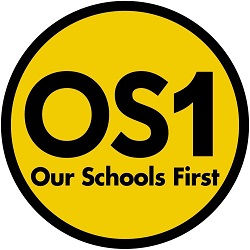 Editor's Note: This viewpoint was submitted by the president and advisory board of Our Schools First.
Six and a half years ago, the children at Cool Spring Elementary had to wear winter coats to class because the building lacked functional heat. The gymnasium at Mooresville High School was structurally unsound. The band room at North Iredell High School leaked and suffered mold issues. Those unacceptable classroom conditions—and many, many others—led to our founding Our Schools First.
From the beginning, our group has kept school children at the center of our mission. We know their teachers, their classrooms, and their access to an equitable education are crucial to our community's future. Since our founding in 2014, Our Schools First has been a tireless advocate for students and teachers, partnering with dozens of volunteers, raising hundreds of thousands of dollars, and pushing Iredell County's schools forward.
Along the way, OS1 has been privileged to enjoy good and productive relationships with administrators and board members associated with Mitchell Community College, Mooresville Graded Schools, and Iredell-Statesville Schools.
Last Monday evening, however, certain members of the I-SS Board of Education took aim at OS1 with language that was inappropriate, inaccurate, and unprofessional.
Sometimes tempers flare, especially in critical times like these. We believe in and celebrate a broad perspective, and we know sometimes we must agree to disagree. Several board members have individually expressed their apologies for what happened, and we appreciate their support and others' who have contacted us this week.
We are advocates. We are charged with the privilege of representing the voices of those who are underserved, or afraid, or left behind. Sometimes those marginalized ideas, opinions, and feelings can be hard to hear. We must be willing to listen nevertheless.
Soon, our community's students will return to schools and colleges, and we pledge our whole support to the classroom teachers who are risking so much to educate them. We celebrate their creativity in the face of enormous and unprecedented challenges. We salute their bravery. And we promise to always represent them.
One tough board meeting will not change our commitment, and it won't fracture the good relationships we still have with school board members, administrators, teachers, and other community partners. We look forward to working with all of our education partners—Iredell-Statesville, Mooresville Graded, and Mitchell Community College—on so many things ahead.
Public schools are not corporate America. They're simply American. If you believe in the children at the center of every classroom, if you join us in holding up the heroes teaching them, if you will help us build better schoolhouses across our community, then you, too, put our schools first. You will always have an advocate in us, and we will always be there for you.
Beth Packman, President
Jennifer Christian
Lisa Gill
Michael Haire
Diane Hamby
James D. Hogan
Beth Kendall
Tanae McLean