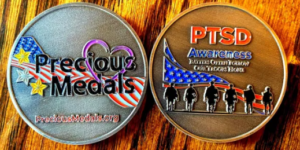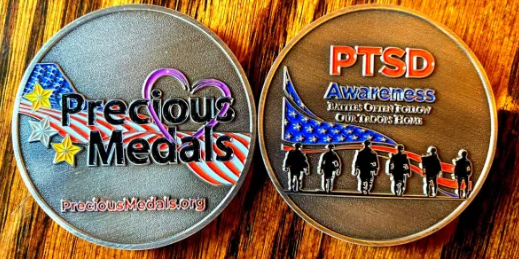 BY MIKE FUHRMAN
A small caravan of motorcycle riders will depart Statesville on Monday morning on a cross-country journey to deliver military service medals to relatives of a World War II veteran.
The public is invited to a send-off ceremony at Purple Heart Homes, located at 755 Washington Avenue, on Monday at 9:15 a.m. For those who want to cheer the riders on, they will travel through downtown Stateville along Center Street about 10:15 a.m.
Precious Medals founders Kim and Roger Siegrist tracked down relatives of Coy William Goins in Los Angeles, Calif., and arranged to deliver the medals two years after Kim found them on sale in an antique store.
"I'm excited. I'm honored," Roger said Sunday afternoon as participants made final plans for the eight-day trip. "It's going to be emotional and inspiring."
Precious Medals and Purple Heart Homes are working together to make sure the medals are transported and presented in a dignified manner. Goins' great niece and great-great niece will receive the medals in a ceremony in Los Angeles on June 6.
Two veterans will be among the riders who are transporting the medals awarded to Goins for his service. He participated in the Normandy invasion, the Battle of the Bulge and other major operations and was awarded two Purple Hearts, two Silver Stars and other medals for his eight tours of duty.
Dave Hughes, a retired Army sergeant who lives in Battle Creek, Mich., signed on for the trip after learning about the Siegrists' plan.
"Nobody should ever be forgotten the way this guy was forgotten," Hughes said.
John Mitchell, a retired first sergeant in the U.S. Air Force who lives in Salisbury, will lead the caravan. He's made five cross-country motorcycle trips and works regularly with Rolling Thunder to honor military veterans and Gold Star Families — and is looking forward to his sixth trip.
"It's a worthy cause," he said.
As the group makes its way across the country, they will meet with various veterans organizations who have pledged their support for this mission. Other veterans are expected to participate in segments of the trip.
LEARN MORE
Learn more about how you can support this mission HERE.