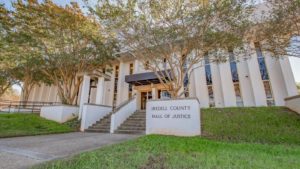 BY MIKE FUHRMAN
When Kevin Turner's murder trial resumes in Iredell County Superior Court on Wednesday morning, the jury will hear the testimony of another key prosecution witness.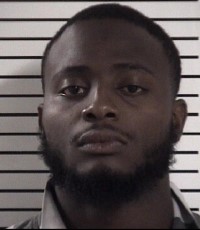 That witness, according to testimony in a hearing outside of the jury's presence on Tuesday, is expected to testify about a possible motive in the 2018 shooting death of Freeman Jacobi Wells — and Turner's involvement in the crime.
Wells, 30, was mortally wounded on January 6, 2018, when a torrent of bullets was unleashed on his home off Hickory Avenue in Statesville. One of two rounds that hit Wells struck him near the temple and caused a devastating brain injury that caused his death later that day, according to the forensic pathologist who conducted the autopsy.
During her testimony during Tuesday afternoon's hearing, Karessa Butler told Judge Greg Horne that another man charged in Wells' murder — Rick Rashond Chambers — suspected that Wells had shot him at a party on November 11, 2017.
Early in the morning on the date that Wells was fatally wounded, Chambers and a group of men dressed in all black clothing left a birthday party she was attending after borrowing her vehicle, Butler said. She said she heard them discussing a strategic plan, but she did not believe they were actually going to shoot someone.
Turner, 29, was one of those men — and he is the one who asked to use her vehicle, she told the judge.
Butler was the 14th witness called by Assistant District Attorney Mikko Red Arrow in Turner's trial. Her testimony in front of the jury was halted after the prosecutor asked if she was present when Chambers was shot and the defense attorney objected to testimony about Chambers' shooting.
Judge Horne then sent the jury home for the day and presided over a hearing in which he determined what testimony Butler could legally give about what she saw and heard related to Wells' death.
Before Butler took the witness stand, Antown Taylor, another co-defendant in the case, completed his testimony. The jury watched more than an hour of videotaped statements he gave Statesville police investigators before and after his arrest.
Taylor denied any involvement in the shootings until he ultimately agreed to cooperate with the police investigation. He testified Monday that Turner was present at the early-morning shooting on Hickory Avenue and "everybody" was shooting at the house.
In exchange for his truthful testimony against Turner and more than a dozen other suspects, Taylor — who is charged with first-degree murder — was released from jail on an unsecured bond about six weeks ago. He is required to wear an electronic monitoring device.
Defense attorney John Basinger sought to undermine Taylor's credibility by showing the police interviews in which Tayor consistently denied any knowledge of the shooting. On Monday, Basinger also sought to introduce as evidence a recording of a jailhouse phone call between Taylor and his attorney that he implied proved Taylor was untruthful. The judge ruled that evidence was inadmissible and said that Taylor had a right to a private phone call with his attorney.
Turner faces life in prison if he is convicted of first-degree murder.
During the trial's first five days, the prosecutor has called 14 witnesses to the stand and introduced more than 170 exhibits, including crime scene photos, shell casings, projectiles, witness statements and the autopsy report.
The trial is scheduled to resume at 9:30 a.m. Wednesday.
Related
DAY 1: Murder trial begins in shooting death of Statesville man; prosecutor describes crime scene as 'war zone' | Iredell Free News
DAY 2: Shooting victim's mother testifies during second day of murder trial in Iredell County Superior Court | Iredell Free News
DAY 3: Prosecution witness details actions of co-defendant, associates in Turner murder trial | Iredell Free News
DAY 4: Prosecution witness: Defendant was part of group that opened fire on murder victim's home | Iredell Free News