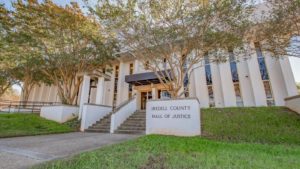 BY MIKE FUHRMAN
One of the two suspects charged with murdering Shana Nichole Harmon on January 16, 2020, told an Iredell County Superior Court jury on Monday that she was surprised when her alleged accomplice, Jhammar Vernon Bowen, shot the victim.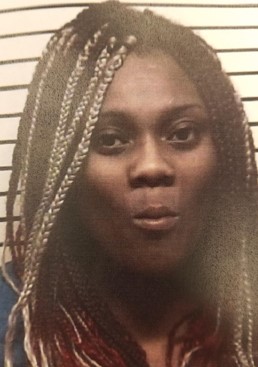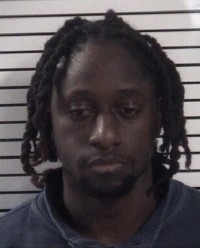 Testifying during the fourth day of Bowen's murder trial, Qawiesha Toliver said she believed the purpose of going to the abandoned house — which was frequented by drug users and prostitutes and known as the "Honeycomb Hideout" — was so Harmon could earn money by having sex with Bowen.
Once they were inside the house off 8th Street in Statesville, "He told her to pull her pants down — and that's when everything transpired," Toliver said in response to questions from Assistant District Attorney Mikko Red Arrow.
"He pulled out his gun," she added. "That's when the shots started taking place."
The victim's family members cried and attempted to comfort each other as Toliver described Harmon yelling out and running for the door as she realized what was happening.
Bowen shot Harmon twice while they were inside the house and once after the victim ran outside, Toliver said.
A forensic pathologist testified last week that evidence from the autopsy and crime scene suggested Harmon was shot in the upper right arm and in the lower left back while she was inside of the house and in the back of the head while she was on the back steps. The shot to the back caused damage to one of Harmon's lungs, her heart, aorta and pulmonary artery, and the shot to the head penetrated her brain stem, according to Dr. Jerri McLemore's testimony.
Toliver told the jury that she "froze" as Bowen opened fire on Harmon.
"I was there, but I wasn't there," she testified. "I shut down. I blocked it out."
After the shooting, Toliver said she stepped over Harmon's body and walked back to Bowen's SUV and they left the area. She said she was scared of Bowen and did what he told her to do.
"I asked if he'd done that before," Toliver told the jury. "He said, 'What do you think?' "
They stopped at McDonald's and picked up some food before Bowen dropped her off at her apartment on East Broad Street in Statesville, she told the jury. Toliver said Bowen took the jacket she was wearing and told her to take a shower when she got inside.
Later that day a friend found Harmon's body in a pool of blood, with her pants partially pushed down, according to earlier testimony.
The prosecution alleges that Bowen, 30, and Toliver, 28, killed Harmon in retribution for stealing crack cocaine from Toliver. Both are charged with murder and conspiracy to commit murder.
Toliver, who is free on bond while awaiting trial, was the 11th witness called by the prosecution.
Before Toliver took the stand Monday afternoon, her roommate, Jennifer Benfield, completed her testimony. During his cross-examination of Benfield, defense attorney Ken Darty attempted to erode her credibility, pointing out several inconsistencies between her trial testimony and her statement to Statesville Police Department investigators seven days after Harmon's death.
Darty also implied that Benfield, a long-time drug addict who has an extensive criminal record, was eager to get the $1,000 offered by SPD investigators to help her get out of town after she gave her statement. After learning about the possibility of getting that money, Benfield's version of what happened changed — and for the worse for his client, Darty suggested through his questioning.
The defense attorney also attempted to show that Toliver was known to be violent. According to witness testimony, she beat two women who owed her money for drugs. Conversely, Benfield and other witnesses testified that they never saw Bowen assault or threaten a woman.
Benfield previously testified that she overheard a phone conversation the night before Harmon was killed in which Toliver told Bowen that another acquaintance said that Harmon had stolen crack cocaine from their apartment the day before. Later, after Harmon showed up at the Broad Street apartment, saying she had "robbed some Mexicans and was scared," Toliver sent a text message to someone that said, "She's here. She's here," Benfield told the jury.
Bowen showed up at the apartment the next morning between 7 and 7:30 a.m., Benfield told the jury. After Toliver woke Harmon up, Bowen, Toliver and Harmon left the apartment together, Benfield said.
Before having Toliver recount the events of January 16, 2020, the prosecutor questioned her extensively about her relationship with Bowen as well as her work as a prostitute and drug dealer.
Toliver, who was known on the streets as "Q" and "QB," told the jury that she became friends with Shana Harmon in 2018 after moving to the area. "We ran the streets together. We did drugs. We prostituted together," she said.
Toliver and Bowen met in August of 2019 through Tinder, an online dating app. After she messaged him, they met the same night in Thomasville, where she was staying at the time, she testified. Soon they were involved in a sexual relationship that evolved into a business partnership.
"I liked him a lot. He was sweet. He had good manners," she said. "He was respectful."
Later, Toliver casually let Bowen know that she was involved in drug sales, she told the jury.
"He said, 'I'm going to give you this and this and see what you can do with it,' " she said when asked how they started working together selling crack cocaine.
After Toliver gave her two ounces of cocaine to sell, "I told him I was going to go back to Iredell County because that's where my clientele was," she testified.
During the ensuing weeks and months, Bowen, who was married and lived in Winston-Salem, provided her with crack cocaine which she sold on the streets and at "trap houses" on Rickert Street and Fifth Street, where the "fiends go to get high," Toliver said.
She also corroborated earlier testimony that she had assaulted Benfield over an unpaid drug debt in Bowen's presence. "I drug her out of the car and beat her up," Toliver told the jury.
After the crack cocaine was stolen from her apartment, Toliver said, she was suspicious of a couple of people, including an acquaintance whom she sold crack to earlier that day and another man who had a key to the apartment.
Toliver said she warned one the men that "if he didn't give them back, something would happen to him. There would be consequences."
On the day that Harmon was killed, Toliver told the jury that she, Bowen and Toliver left the Broad Street apartment in Toliver's Nissan Rogue early that morning. They rode around for a while, traveling as far as Mooresville before returning to Statesville.
"We were just looking for a place to do it," Toliver said. "We wound up at the Honeycomb Hideout."
Visiting Judge Lori Hamilton sent the jury home about 5:20 p.m. Monday. The trial will resume Wednesday at 9 a.m.
Related Stories
DAY 1: Murder trial begins in January 2020 shooting death of Statesville woman
DAY 2: Forensic pathologist testifies about 'devastating' gunshot wounds that killed Shana Harmon
DAY 3: Witness: Defendant picked Shana Harmon up at apartment on day she was killed
SIGN UP FOR OUR FREE E-MAIL EDITION HERE.