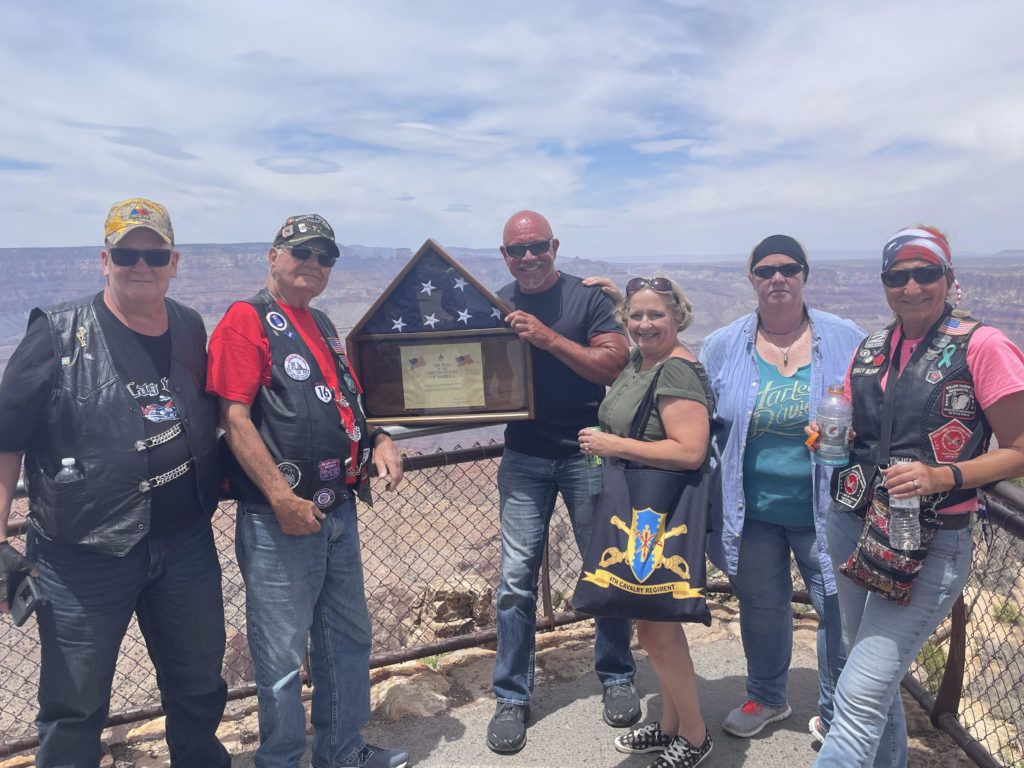 BY MIKE FUHRMAN
The Precious Medals Journey will conclude on Monday afternoon with a repatriation ceremony in Los Angeles.
Relatives of decorated World War II veteran Coy William Goins will take possession of his service medals during a ceremony at Hollywood American Legion Post 43. The medals, which were purchased from a thrift store, were transported by motorcycle caravan over the past seven days by the co-founders of Precious Medals, Kim and Roger Siegrist, and six supporters. The Siegrists planned the cross-country journey to highlight Sgt. Goins' service and bring attention to the need to provide PTSD treatment to active duty service members and military veterans.
The travelers will complete the final leg of the trip on Monday morning, when they drive from Barstow to Los Angeles. The ceremony will be livestreamed on the Precious Medals page beginning at 4 p.m. EDT on Monday.
"I feel a little nervous for tomorrow," said Dawn Nemeth, one of the motorcycle riders. "I know I'm going to cry like a baby, to get to the end point, to have that honor."
Day 6 and 7 of the 2,400-mile trek provided tough physical challenges for the five motorcycle riders as they gained more than 2,600 feet of altitude on Saturday and endured sweltering temperatures and dangerous crosswinds while driving across the Mojave Desert on Sunday afternoon.
John Mitchell, an 80-year-old veteran who led the first half of the ride, said Sunday's experience was like "wrestling" his motorcycle across the desert.
Day 6: From Winslow, Arizona, to Williams, Arizona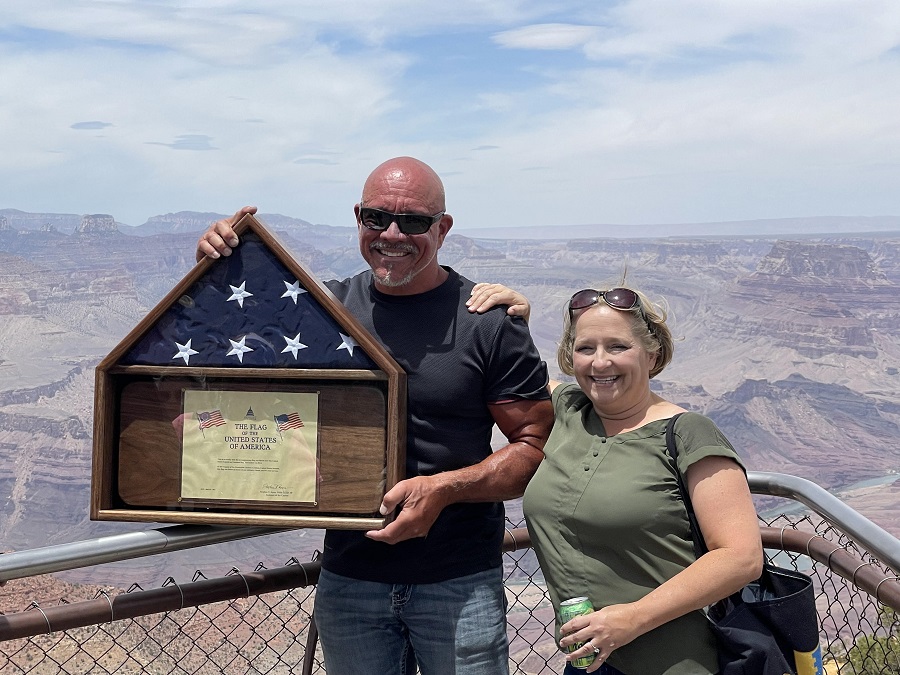 After leaving the Quality Inn in Winslow, the Precious Medals traveled to the Grand Canyon, where they posed for photos with an American flag that once flew over the U.S. Capitol Building. The flag will be presented to Purple Heart Homes, a nonprofit that has supported this effort, after the group returns to Statesville.
The altitude change, from 4,203 feet above sea level in the morning to 6,804 feet at the Grand Canyon, and warm temperatures took their toll on the five riders.
On Saturday evening, after checking into the Motel 6 in Williams, Arizona, the group met members of the John Ivens American Legion Post 42 (Grand Canyon) for dinner at Goldies Route 66 Diner.
Williams is a unique little town in which members of an outlaw gang get "killed" in a mock shootout on Main Street every night during the tourist season. A large crowd was gathered for the attraction Saturday evening.
That staged spectacle paled in comparison to the living history lesson that unfolded in the back corner of Goldies, where retired Army MP Scott Miller and Navy Machinist Mate Al Dunaway welcomed the Precious Medals group and shared their military experiences and learned about the cross-country journey to unite Coy William Goins' World War II service medals with family members.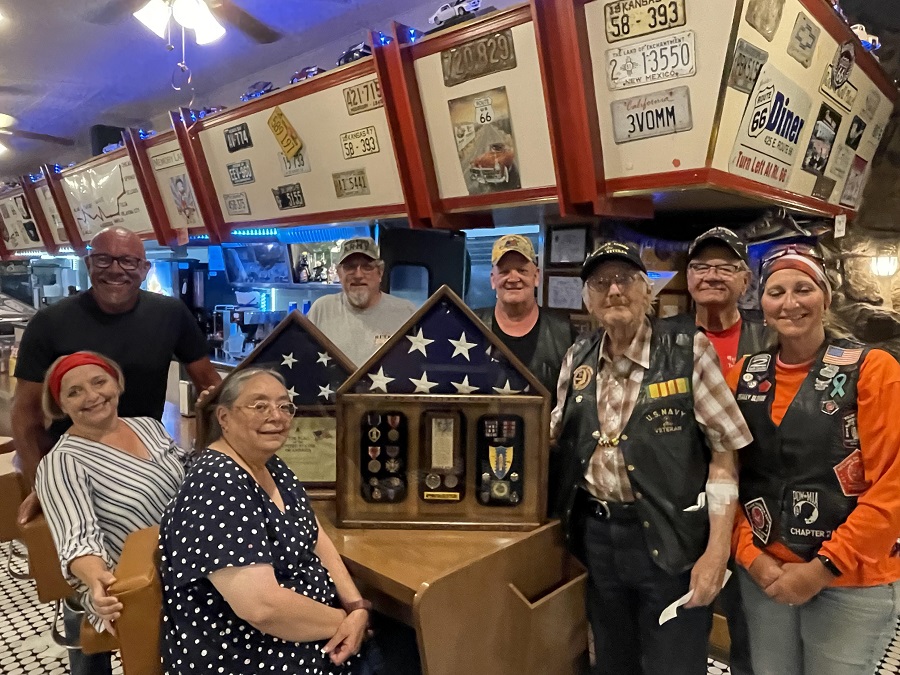 Dunaway, a Virginia native who lives in Williams, joined the Navy in 1961 after serving in the Army National Guard for a year. He did two tours in Vietnam, serving on a carrier and destroyer. Among his assignments was serving on one two search and rescue vessels that rescued more than 900 downed pilots and flight crews out of the water. Years later, Dunaway met a pilot that he helped save at the lunch counter at Goldies.
Miller enlisted in the Army after high school graduation in 1983 and served two tours in South Korea, along with assignments in Germany, Honduras, Somalia and Texas during his 14-year military career.
Both men were moved by the efforts of the Precious Medals group to track down Sgt. Goins' family and personally deliver them to his relatives.
"These medals meant something to that veteran," Miller said. "Even though he's passed, they will mean something to his family. The medals are his legacy of what he did in the service."
"It's phenomenal," he said.
Dunaway, who is 80 years old and on dialysis while being evaluated for a kidney transplant, comes from a long line military service members, including three uncles who served in World War II. One of his uncles, Jesse Dunnaway, was the personal driver of Gen. George Patton, commander of the U.S. Army in France and Germany in World War II.
While he appreciates the extraordinary efforts of the Precious Medals group, Dunaway said you don't have to drive across the country to honor the men and women who served in the military.
"It takes a little respect and a few thank yous," he explained. "That's it."
Day 7: From Williams, Arizona, to Barstow, California
The ride from Williams to Barstow was undoubtedly the toughest leg of the Precious Medals journey, which began a week ago in Statesville, North Carolina, and included a 500-plus mile day and a day in Oklahoma in which the riders goat soaked in a downpour.
A little rain would have been welcomed on Sunday as the riders were scorched by temperatures in the 103 to 105 degree Fahrenheit range and strong cross winds for several hours as they drove across the Mojave Desert.
"Oh, man, that wind towards the end … and it was the hottest day yet," said Dave Hughes, one of two veterans who have made the trip. "Got a little bit of sun poisoning."
The group had to stop more frequently to keep their bikes — and their bodies — from overheating.
During one stop, retired Iredell-Statesville Schools teacher Crystal Harris took off her shirt, soaked it in water and then put it back on.
"It was brutal," she said.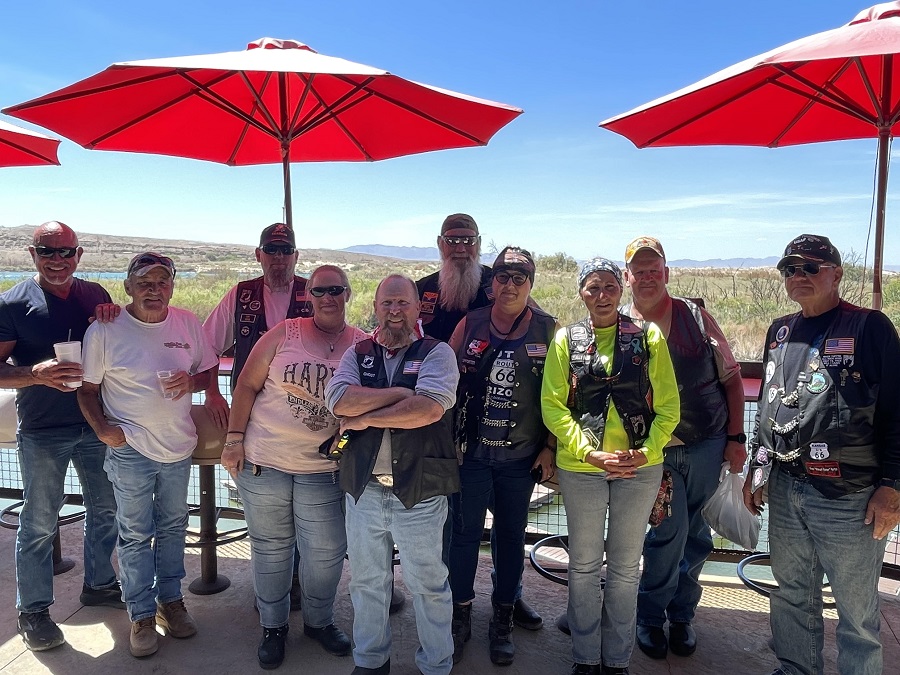 Earlier Sunday, the group received an escort from four members of the American Legion Post 14 in Kingman, Arizona. Lawn Dart, Doc, Ghost and CB joined the group for lunch at Topock66 Restaurant & Bar in Topock, Arizona. The groups swapped stories, including how Terry Kemp ("Ghost") and Denise Green ("Lawn Dart") got their nicknames.
Kemp, a special forces member who was pronounced dead three times during his 30-year military career, was given his moniker because of his ability to sneak up on junior soldiers. Meanwhile, Green earned her nickname in a motorcycle crash in which she was shot 18 feet into the air, came down on her head like a lawn dart and suffered traumatic injuries.
Like the other veterans who have learned about Coy William Goins and the Precious Medals group's efforts to deliver the World War II veteran's service medals to family members across country, the Post 14 members were moved by what they heard — and what they saw when Precious Medals co-founder Roger Siegrist opened his motorcycle trailer and showed him the display case containing Sgt. Goins' medals and service flag.
Goins joined the Army the day after the Japanese Air Force attacked Pearl Harbor and served eight tours of duty with the 4th Cavalry. He was awarded two Purple Hearts, two Silver Stars and other medals for his service.
"I cried," said the retired soldier they call Ghost, who enlisted in the Army at age 16 and was deployed to Vietnam when he was 17. "People like that are very honorable. He should be put on a pedestal."
Support this Mission
You can help fund this journey and support the work of Precious Medals and Purple Heart Homes, by making a contribution HERE.

Related Stories
♦ MAY 20: A Journey to Remember: Precious Medals, Purple Heart Homes collaborating on mission to deliver service medals to relatives of World War II veteran
♦ MAY 30: Photo Gallery: Purple Heart Homes hosts send-off for Precious Medals mission
♦ MAY 31: Precious Medals Journey Day 1: From Statesville to Cookeville, Tennessee
♦ JUNE 2: Precious Medals Journey Day 2 & 3: From Cookeville, Tennessee, to Yukon, Oklahoma
♦ JUNE 5: Precious Medals Journey Day 4 & 5: From Yukon, Oklahoma, to Winslow, Arizona